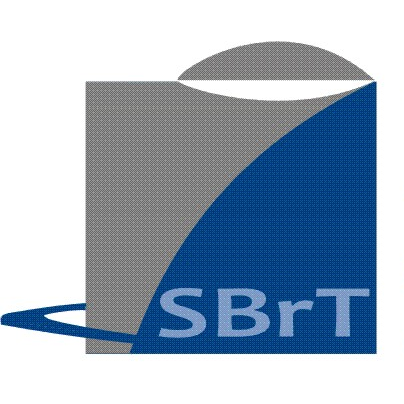 XXX Simpósio Brasileiro de Telecomunicações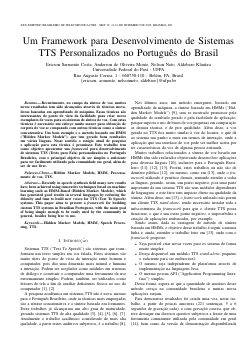 Um Framework para Desenvolvimento de Sistemas TTS Personalizados no Português do Brasil
Ericson Sarmento Costa, Anderson de Oliveira Monte, Nelson Neto, Aldebaro Klautau
Keywords:
Hidden Markov Models HMM Speech Processing TTS.
Abstract
Recently in speech synthesis field many new results have been achieved using innovative techniques based on machine learning such as HMM-Based (Hidden Markov Models), which has generated good results in several languages by reducing the dificulty and time to build new voices for TTS (Text To Speech) systems. This paper aims to present a framework for building custom TTS systems in Brazilian Portuguese, with the main goal of being simple enough to be easily used by the community in general, besides being free to use.
Download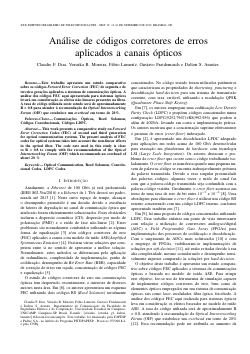 Análise de códigos corretores de erros aplicados a canais ópticos
Claudio F. Dias, Veruska R. Moreira, Fábio Lumertz, Gustavo Fraidenraich, Dalton S. Arantes
Keywords:
Optical Communication
Reed Solomon
Convolucional Codes
LDPC Codes.
Abstract
This work presents a comparative study on Forward Error Correction Codes (FEC) of second and third generation for optical communication systems. The present analysis of FEC codes for optical systems takes into account the non-linear effects in the optical fiber. The code rate used in this study is close to R = 0.8 to comply with the recommendation of the Optical Internetworking Forum (OIF) which recommends an overhead of about 20 %
Download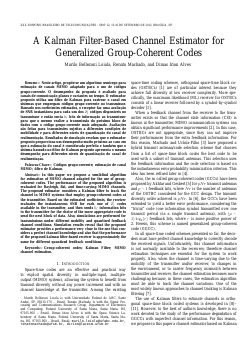 A Kalman Filter-Based Channel Estimator for Generalized Group-Coherent Codes
Murilo Bellezoni Loiola, Renato Machado, and Dimas Irion Alves
Keywords:
Group-coherent codes
Kalman Filter
MIMO channel estimation.
Abstract
In this paper we propose a semiblind algorithm for estimation of MIMO channel adapted for the use of groupcoherent codes. The performance of the proposed algorithm is evaluated for Rayleigh, flat, and time-varying MIMO channels. The proposed estimator considers a Kalman filter to track the channel in MIMO systems that employ group-coherent codes at the transmitter. Based on the estimated coefficients, the receiver evaluates the instantaneous SNR for each one of 2b f codes available in the transmitter, and then sends bf information bits to the transmitter for the choice of the more appropriate code to send the next block of data. Also, simulations are performed for transmissions under different mobility and quantized feedback channel conditions. Simulation results reveal that the proposed estimator provides a performance very close to the one that considers a perfect channel knowledge and also that the performance of the proposed kalman filter-based receiver is approximately the same for different quantized feedback conditions.
Download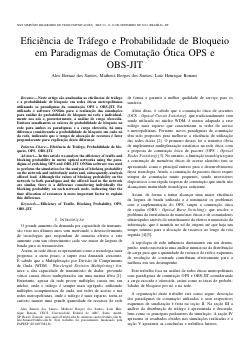 Eficiência de Tráfego e Probabilidade de Bloqueio em Paradigmas de Comutação Ótica OPS e OBS-JIT
Alex Bernaz dos Santos, Matheus Borges dos Santos, Luiz Henrique Bonani
Keywords:
Eficiência de Tráfego
Probabilidade de bloqueio
OPS
OBS-JIT.
Abstract
Neste artigo são analisadas as eficiências de tráfego e a probabilidade de bloqueio em redes óticas metropolitanas utilizando os paradigmas da comutação OPS e OBS-JIT. Foi utilizado o software ONSim para a realização das simulações para análise de probabilidade de bloqueio na rede e individualmente nos nós e, posteriormente, a análise de carga oferecida. Embora semelhantes os valores de probabilidade de bloqueio na rede para ambos os paradigmas e a carga oferecida, há uma diferença considerando a probabilidade de bloqueio em cada nó da rede, indicando que o tempo de alocação de recursos é fator preponderante para explicação desta diferença.
Download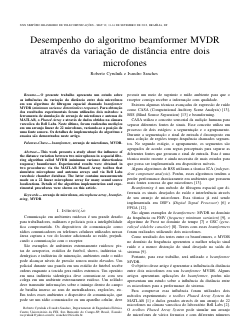 Desempenho do algoritmo beamformer MVDR através da variação de distância entre dois microfones
Roberto Cyrulnik, Ivandro Sanches
Keywords:
beamformer arranjo de microfones MVDR
Abstract
O presente trabalho apresenta um estudo sobre as influências da variação da distância entre dois microfones em um algoritmo de filtragem espacial chamado beamformer MVDR (minimum variance distortionless response). Para obtenção dos resultados experimentais foram utilizados dois métodos: a ferramenta de simulação de arranjo de microfones e antenas do MATLAB, o Phased Array e através de dados obtidos na câmara varecóica do Bell Labs. Neste último, foram realizadas medições em um arranjo linear de 22 microfones, variando-se a posição de uma fonte sonora. Os detalhes de implementação do algoritmo e ensaios são demontrados neste artigo.
Download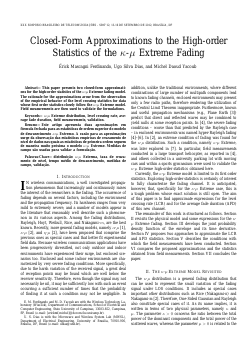 Closed-Form Approximations to the High-order Statistics of the -μ Extreme Fading
Erick Mascagni Ferdinando, Ugo Silva Dias, Michel Daoud Yacoub
Keywords:
Abstract
Este artigo apresenta duas aproximações em fórmula fechada para as estatísticas de ordem superior do modelo de desvanecimento -μ Extremo. A razão para as aproximações surge da observação das estatísticas empíricas de cruzamento de nível de dados nas quais as estatísticas de primeira ordem seguem de maneira muito próxima o modelo -μ Extreme. Medidas de campo são usadas para validar a formulação.
Download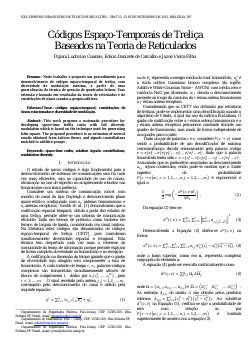 Códigos Espaço-Temporais de Treliça Baseados na Teoria de Reticulados
Dijiani Ludovino Guanais, Edson Donizete de Carvalho, Jozué Vieira Filho
Keywords:
códigos espaço-temporal
constelações de sinais rotacionadas e diversidade de modulação
Abstract
Neste trabalho é proposto um procedimento para desenvolvimento de códigos espaço-temporal de treliça, com diversidade de modulação máxima, a partir de uma generalização da técnica de geração de quadrados latinos. Essa extensão é baseada em resultados da teoria de reticulados e de constelações de sinais casadas a grupos aditivos.
Download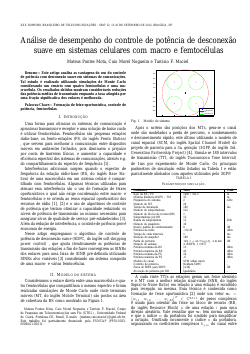 Análise de desempenho do controle de potência de desconexão suave em sistemas celulares com macro e femtocélulas
Mateus Pontes Mota, Caio Morel Nogueira, Tarcisio F. Maciel
Keywords:
Formação de feixe oportunística controle de potência femtocélulas.
Abstract
Este artigo analisa as vantagens do uso do controle de potência com desconexão suave em sistemas de comunicações. Tal estudo é realizado utilizando simulações de Monte Carlo considerando um cenário com quatro femtocélulas e uma macrocélula. Os resultados obtidos mostram consideráveis reduções das potência medias de transmissão enquanto a taxa atingida por uma fração significativa dos enlaces ´e melhorada.
Download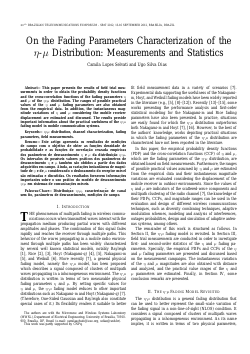 On the Fading Parameters Characterization of the k-μ Distribution: Measurements and Statistics
Camila Lopes Selvati, Ugo Silva Dias
Keywords:
η-µ distribution
channel characterization
fading parameters
field measurements.
Abstract
This paper presents the results of field trial measurements in order to obtain the probability density functions and the cross-correlation functions of the fading parameters and μ of the -μ distribution. The ranges of possible practical values of the and μ fading parameters are also obtained from the empirical data. In addition, the instantaneous magnitude variations of and μ considering the mobile receiver displacement are estimated and discussed. The results provide important information about the practical usefulness of the -μ fading model in mobile communication systems.
Download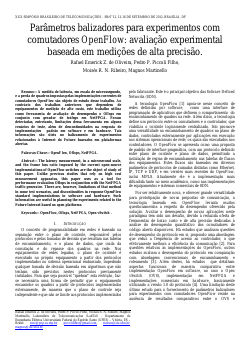 Parâmetros balizadores para experimentos com comutadores OpenFlow: avaliação experimental baseada em medições de alta precisão.
Rafael Emerick Z. de Oliveira, Magnos Martinello, Pedro P. Piccoli Filho, Moisés R. N. Ribeiro
Keywords:
OpenFlow
Oflops
NetFPGA
Open vSwitch .
Abstract
The latency measurement, in a microsecond scale, and the frame loss ratio imposed by the current open-source implementations of OpenFlow switches are the object of study of this paper. Unlike previous studies that rely on high cost measurement apparatus, this paper uses as a tool for performance evaluation Oflops in conjunction with the NetFPGA traffic generator. There are, however, limitations of that method in some test scenarios, and discontinuities in response OpenFlow standard implementations in software and hardware. Such information are useful in planning the experiments related to the Future Internet based on open platforms.
Download