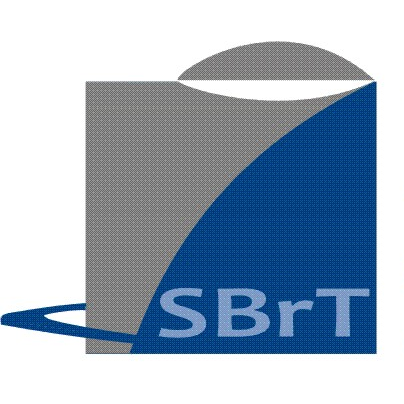 XXX Simpósio Brasileiro de Telecomunicações
Modulação para rádio digital utilizando a amplitude de autocorrelação de códigos PN para transporte da informação.
Fabrício de Araújo Carvalho, Fernando Walter
Keywords:
Digital Radio Broadcasting
Spectral Efficiency
Pseudo-random codes
CDMA
PWM.
Abstract
The frequency bands used in mobile communications are allocated according to the type of application. With the need for more channels, the frequency spectrum has become a scarce natural resource. This study shows the results of a proposed modulation using the variation of the autocorrelation of pseudo-random codes to carry information. The work also presents the generation of multiple orthogonal axes to increase the bit rate and in this way improve the Channel efficiency.
Download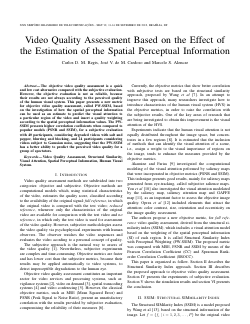 Video Quality Assessment Based on the Effect of the Estimation of the Spatial Perceptual Information
Carlos D. M. Regis, José V. de M. Cardoso, Marcelo S. Alencar
Keywords:
Video Quality Assessment
Structural Similarity
Visual Attention
Spatial Perceptual Information
Human Visual System.
Abstract
The objective video quality assessment is a quick and low cost alternative compared with the subjective evaluation. However, the objective evaluation is not as reliable, because their results are not always according to the perceived quality of the human visual system. This paper presents a new metric for objective video quality assessment, called PW-SSIM, based on the investigation of how the spatial perceptual information can be used as an estimate to predict the visual attention to a particular region of the video and insert a quality weighting according to the spatial perceptual information values. The PWSSIM presents higher correlation coefficients when compared to popular models (PSNR and SSIM), for a subjective evaluation with 40 participants, considering degraded videos with salt and pepper, blurring and blocking, and 24 participants considering videos subject to Gaussian noise, suggesting that the PW-SSIM has a better ability to predict the perceived video quality for a group of spectators.
Download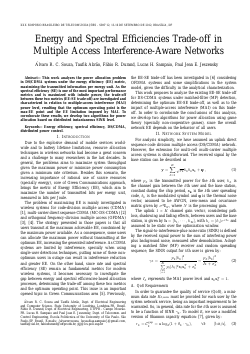 Energy and Spectral Efficiencies Trade-off in Multiple Access Interference-Aware Networks
Alvaro R. C. Souza, Taufik Abraão, Fábio R. Durand, Lucas H. Sampaio, Paul Jean E. Jeszensky
Keywords:
Energy efficiency spectral efficiency DS/CDMA distributed power control
Abstract
This work analyzes the power allocation problem in DS/CDMA systems under the energy efficiency (EE) metric, maximizing the transmitted information per energy unit. As the spectral efficiency (SE) is one of the most important performance metrics and is maximized with infinite power, the trade-off between these two metrics (EE-SE trade-off) are investigated and characterized in relation to multiple-access interference (MAI) power level, resulting that the optimum operating point is the max-EE point and the EE limitation imposed by MAI. To corroborate these results, we develop two algorithms for power allocation based on distributed instantaneous SINR level.
Download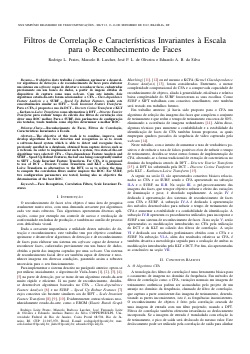 Filtros de Correlação e Características Invariantes à Escala para o Reconhecimento de Faces
Rodrigo L. Prates, Marcelo B. Larcher, José F. L. de Oliveira, Eduardo A. B. da Silva
Keywords:
Face Recognition
Correlation Filters
Scale Invariant Features
Abstract
The objective of this work is to combine, improve, and develop algorithms for face detection and recognition so as to create a software-based system which is able to detect and recognize faces, previously enrolled in a databasis, obtained from capture devices such as a webcam. In order to implemement such a system, two state-of-the-art algorithms were selected: CFA – Class-dependence Feature Analysis and SURF – Speed Up Robust Features, the last one being conceptually similar to SIFT – Scale Invariant Feature Transform. For CFA, it is proposed to use of DCT – Discrete Cosine Transform and KLT – Karhunen- Loève Transform as alternatives to the DFT, so as to reduce the time to compute the correlation filters and/or improve the ROC. For SURF, two configuration parameters are tested, having also as objective the determination of the best ROC.
Download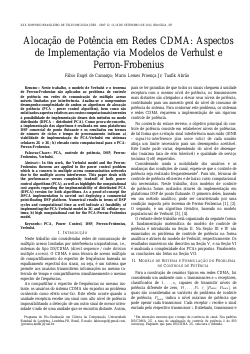 Alocação de Potência em Redes CDMA: Aspectos de Implementação via Modelos de Verhulst e Perron-Frobenius
Fábio Engel de Camargo, Mario Lemes Proenc ̧a Jr, Taufik Abrão
Keywords:
PCA
Perron-Frobenius
Verhulst. controle de potência
DSP
Abstract
Neste trabalho, o modelo de Verhulst e o teorema de Perron-Frobenius são aplicados ao problema de controle de potência em redes de comunicação de múltiplo acesso móveis limitadas por interferência. Analisa-se o compromisso desempenho-complexidade de ambos os algoritmos de alocação de potência (PCA - power control algorithm), bem como são enfatizados aspectos relativos aos custos computacionais inerentes à possibilidade de implementação desses dois métodos no modo distribuído (DPCA – distributed PCA). Como prova-de-conceito, a implementação dos algoritmos é realizada em uma plataforma DSP comercial de ponto flutuante e os resultados em termos de número de ciclos e tempo de processamento indicam a) viabilidade de implementação do PCA-Verhulst em sistemas celulares 2G e 3G; b) elevado custo computacional para o PCA-
Download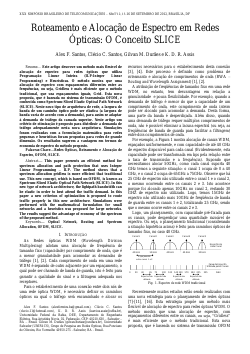 Roteamento e Alocação de Espectro em Redes Ópticas: O Conceito SLICE
Alex F. Santos, Clécio C. Santos, Gilvan M. Durães, K. D. R. Assis
Keywords:
Redes Ópticas
Roteamento e Alocação de Espectro
OFDM
SLICE
Abstract
Este artigo descreve um método mais flexível de alocação de espectro para redes ópticas que utiliza Programação Linear Inteira (ILP-Integer Linear Programming) e Heurísticas. O método mostra que uma alocação de espectro com espaçamentos diferentes entre as frequências, ou seja, Gridless é mais eficiente que o método tradicional, que usa espaçamentos iguais, Grid. Esta nova proposta, que é baseada no sistema de transmissão OFDM, é conhecida como Spectrum-Sliced Elastic Optical Path Network (SLICE). Neste novo tipo de arquitetura de rede, a largura de banda de um caminho óptico pode ser elástica (a largura de banda varia de acordo com a demanda), para assim se adaptar à demanda de tráfego da camada superior. Neste artigo um critério de otimização é proposto para distribuir a demanda de tráfego adequadamente nesta nova arquitetura. Simulações foram realizadas com a formulação matemática para redes pequenas e heurísticas foram propostas para redes de grande dimensão. Os resultados sugerem a vantagem em termos de economia de espectro do método proposto.
Download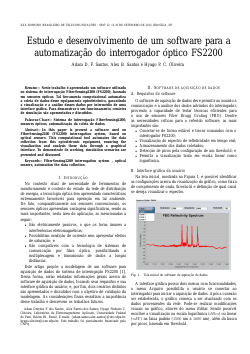 Estudo e desenvolvimento de um software para a automatização do interrogador óptico FS2200
Adam D. F. Santos, Alex B. Santos, Hyago P. C. Oliveira
Keywords:
Sistema de interrogação FiberSensing2200
sensores ópticos
automatização da coleta de dados.
Abstract
In this paper is present a software used on FiberSensing2200 (FS2200) interrogation system, based on optical sensors. This computational tool automates the data collection from this optoeletronic equipment, ensuring the visualization and analysis these data through a graphical interface. To demonstrate i
Download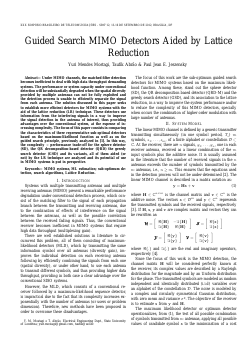 Guided Search MIMO Detectors Aided by Lattice Reduction
Yuri Mendes Mostagi, Taufik Abrão & Paul Jean E. Jeszensky
Keywords:
MIMO systems
ML estimation; sub-optimum de- tection
search algorithms
Lattice Reduction
Abstract
Under MIMO channels, the matched filter detection becomes inefficient to deal with high data throughput demanding systems. The performance or system capacity under conventional detection will be substantially degraded when the spatial diversity provided by multiple antennas can not be fully exploited and the detection process is unable to efficiently separate the signal from each antenna. The solution discussed in this paper seeks to establish more efficient detectors for MIMO systems with the aid of the lattice reduction (LR) technique. These detectors use information from the interfering signals in a way to improve the signal detection in the antenna of interest, thus providing advantages over the conventional system, at the expense of in- creasing complexity. The focus of this paper consists in comparing the characteristics of three representative sub-optimal detectors based on the maximum-likelihood function as well as on the guided search principle, previously analyzed in [1]. In this way, the complexity × performance trade-off for the sphere detector (SD), the QR decomposition-based detector (QRD) the greedy search detector (GSD) and its variants, all of them aided (or not) by the LR technique are analyzed and its potential of use in MIMO systems is put in perspective.
Download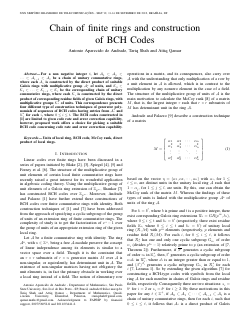 Chain of finite rings and construction of BCH Codes
Antonio Aparecido de Andrade, Tariq Shah, Attiq Qamar
Keywords:
Units of local ring
BCH code
McCoy rank
direct product of local rings
Abstract
For a non negative integer t, let A0 ⊂ A1 ⊂ · · · ⊂ At−1 ⊂ At be a chain of unitary commutative rings, where each Ai is constructed by the direct product of suitable Galois rings with multiplicative group A ∗ i of units, and K0 ⊂ K1 ⊂ · · · ⊂ Kt−1 ⊂ Kt be the corresponding chain of unitary commutative rings, where each Ki is constructed by the direct product of corresponding residue fields of given Galois rings, with multiplicative groups K ∗ i of units. This correspondence presents four different type of construction techniques of generator polynomials of sequences of BCH codes having entries from A ∗ i and K ∗ i for each i, where 0 ≤ i ≤ t. The BCH codes constructed in [1] are limited to given code rate and error correction capability, however, proposed work offers a choice for picking a suitable BCH code concerning code rate and error correction capability.
Download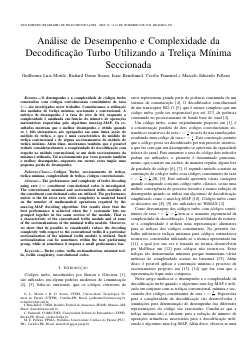 Análise de Desempenho e Complexidade da Decodificação Turbo Utilizando a Treliça Mínima Seccionada
Guilherme Luiz Moritz, Richard Demo Souza, Isaac Benchimol, Cecilio Pimentel, Marcelo Eduardo Pellenz
Keywords:
Códigos Turbo
seccionamento de treliça
treliça mínima
complexidade de treliça
códigos convolucionais
Abstract
O desempenho e a complexidade de códigos turbo construídos com códigos convulsionais constituintes de taxa k/n são investigados neste trabalho. Consideramos a utilização dos módulos de treliça mínima, seccionada e convencional. A métrica de desempenho é a taxa de erro de bit, enquanto a complexidade é analisada em função do número de operações matemáticas requeridas pelo algoritmo max-log-MAP. Os resultados mostram que o melhor desempenho é obtido quando os k bits sistemáticos são agrupados em uma u ́nica seção do módulo de treliça, o que é uma característica do módulo de treliça convencional e de alguns seccionamentos do módulo de treliça mínimo. Além disso, mostramos também que é possível reduzir consideravelmente a complexidade de decodificação com respeito ao módulo convencional, se um dado seccionamento da mínima é utilizado. Tal seccionamento por vezes permite também o melhor desempenho, enquanto em outras vezes impõe uma pequena perda de desempenho.
Download