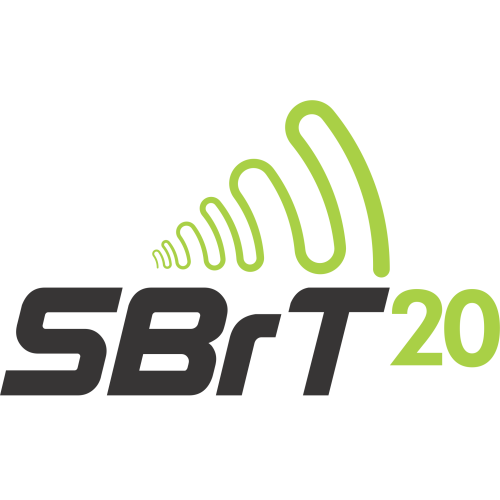 XXXVIII Simpósio Brasileiro de Telecomunicações e Processamento de Sinais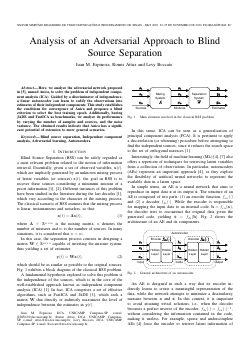 Analysis of an Adversarial Approach to Blind Source Separation
Juan Manuel Espinoza Bullón, Romis Ribeiro Attux, Levy Boccato
Keywords:
Blind Source Separation
Independent Component Analysis
Adversarial Learning
Autoencoders
Abstract
In this work, we analyze the adversarial network proposed by Brakel and Bengio at [5] to solve the problem of independent component analysis (ICA). Guided by a discriminator of independence, a linear autoencoder learns to codify a set of samples into estimates of their independent components. This is achieved by training the autoencoder to "fool the discriminator" and generate a code of latent variables. The present study focuses on linear mixtures, having the JADE and FastICA algorithms as benchmarks, but the paradigm has a significant potential of extension to more general scenarios.
Download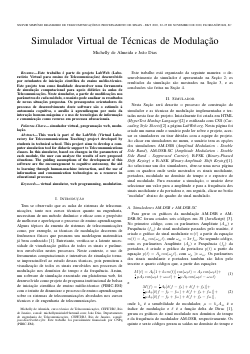 Simulador Virtual de Técnicas de Modulação
Michelly de Almeida, João T Dias
Keywords:
Simulador virtual
Programação web
Modulação
Abstract
Este trabalho é parte do projeto LabWeb (Laboratório Virtual para ensino de Telecomunicações) desenvolvido por estudantes de iniciação científica do ensino médio-técnico. Este projeto tem como finalidade desenvolver uma ferramenta de simulação computacional para apoio didático às aulas de Telecomunicações. Neste simulador, a partir de modificações nos parâmetros de cada módulo, o usuário pode analisar os resultados de novas situações propostas. Os pressupostos orientadores do processo de desenvolvimento deste software são o estímulo à autonomia cognitiva, o auxílio à aprendizagem por meio da interação homem-máquina e o uso de tecnologias de informação e comunicação como recurso em processos educacionais.
Download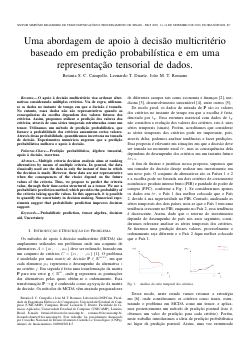 Uma abordagem de apoio à decisão multicritério baseado em predição probabilística e em uma representação tensorial de dados
Betania Silva Carneiro Campello, Leonardo Tomazeli Duarte, João Romano
Keywords:
Predição probabilística
álgebra tensorial
apoio à decisão
incerteza
Abstract
Multiple criteria decision analysis aims at ranking alternatives by means of multiple criteria. In general, the data classically used are the data in only the instant of time in which the decision is made. However, these data are not representative when the consequences of the choice depend on the future data of the criteria. Thus, we propose to predict the criteria value, through their time-series structured as a tensor. We use a probabilistic prediction method, which provides the probability of the criteria taking specific values. In this approach, it is possible to quantify the uncertainty in decision making. Numerical experiments suggest that probabilistic prediction improves decision support.
Download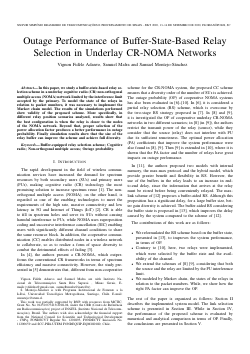 Outage Performance of Buffer-State-Based Relay Selection in Underlay CR-NOMA Networks
Vignon Fidele Adanvo Jr, Samuel Mafra, Samuel Montejo-Sánchez
Keywords:
Buffer-equipped relay selection scheme
Cognitive radio
Non-orthogonal multiple access
Outage probability
Abstract
In this paper, we study a buffer-state-based relay selection scheme in a underlay cognitive radio (CR) non-orthogonal multiple access (NOMA) network limited by the interference limit accepted by the primary. To model the state of the relays in relation to packet numbers, it was necessary to implement the Markov chain model. The results of the simulations performed show validity of the proposed scheme. More specifically, in different relay position scenarios analyzed, results show that the best configuration is when the relay is closer to the nodes of the NOMA network. Beyond that, proper selection of the power allocation factor produces a better performance in outage probability. Finally simulation results show that the size of the relay buffer can improve the scheme and achieve full diversity.
Download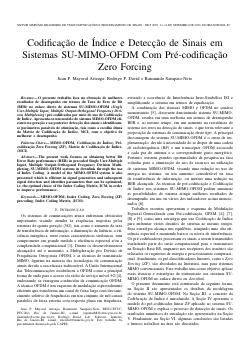 Codificação de Índice e Detecção de Sinais em Sistemas SU-MIMO-OFDM Com Pré-codificação Zero Forcing
Juan Pablo Mayoral Arteaga, Rodrigo David, Raimundo Sampaio-Neto
Keywords:
MIMO-OFDM
Codificação de Índice
Pré-codificação Zero Forcing (ZF)
Abstract
The present work focuses on obtaining better Bit Error Rate performance (BER) in pre-coded Single User-Multiple Input, Multiple Output-Orthogonal Frequency Division Multiplexing, SU-MIMO-OFDM systems in downlink through the use of Index Coding. A model of the MIMO-OFDM system is also presented which is efficient in signal generation and subsequent signal detection and identifies parameters that can be optimized in order to improve performance.
Download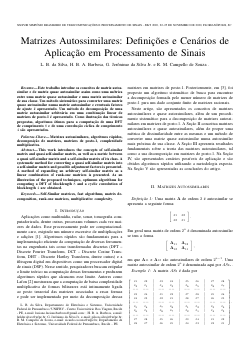 Matrizes Autossimilares: Definições e Cenários de Aplicação em Processamento de Sinais
Luciano Barboza Silva, Hélder Barbosa, Gilson Jerônimo da Silva Jr., Ricardo M Campello de Souza
Keywords:
Matrizes autossimilares
Algoritmos rápidos
Matrizes de posto-1
Abstract
This work introduces the concepts of self-similar matrix and quasi self-similar matrix, as well as a metric between a quasi self-similar matrix and a self-similar matrix of its class. A systematic method for converting a quasi self-similar matrix into a self-similar matrix and possible adjustment factors is presented. A method of expanding an arbitrary self-similar matrix as a linear combination of rank-one matrices is presented. As an illustration of the proposed techniques, optimum algorithms for computing a DFT of blocklength 8 and a cyclic convolution of blocklength 4 are obtained.
Download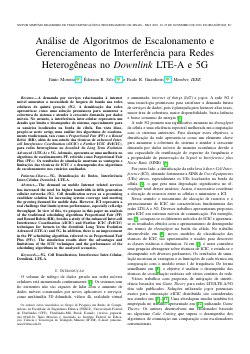 Análise de Algoritmos de Escalonamento e Gerenciamento de Interferência para Redes Heterogêneas no Downlink LTE-A e 5G
Junio Moreira, Éderson Silva, Paulo R. Guardieiro
Keywords:
5G
Densificação de Redes
Interferência Inter-Celular
Downlink
Abstract
The demand on mobile Internet related services has increased the need for higher bandwidth in fifth generation cellular networks (5G). Cell densification serves as a promising candidate solution for increasing system coverage and meeting the growing demand for mobile data. However, ICI represents a real challenge that limits system performance, especially cell-edge throughput. In view of this, we propose in this paper an analysis of the scheduling algorithms PF, PF+ and RR, besides a study of the eICIC and FeICIC techniques for hetnets in the downlink LTE-A and 5G. In addition, there is an improvement in the PF scheduling algorithm. The simulation results show the advantages and limitations of the ICIC techniques and the performance of the scheduling algorithms in the analyzed scenarios.
Download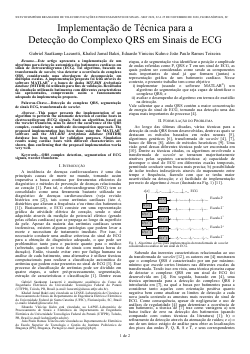 Implementação de Técnica para a Detecção do Complexo QRS em Sinais de ECG
Gabriel S. Lazaretti, Khaled Jamal Bakri, Eduardo V Kuhn, João Teixeira
Keywords:
Detecção do complexo QRS
segmentação de sinais ECG
transformada de wavelet
Abstract
Este artigo apresenta a implementação de um algoritmo para detecção automática dos batimentos cardíacos em sinais de eletrocardiograma (ECG). Tal algoritmo, baseado na transformada de wavelet, visa detectar a ocorrência do complexo QRS, considerando uma abordagem de decomposição em múltiplas escalas. A implementação proposta foi feita através do software MATLAB® e o banco de dados MIT BIH Arrhythmia database (MITDB) foi utilizado para fins de validação. Resultados de simulação utilizando batimentos com diferentes características são apresentados, comprovando assim o funcionamento adequado da implementação proposta.
Download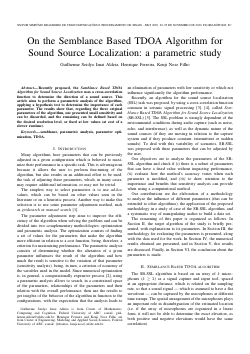 On the Semblance Based TDOA Algorithm for Sound Source Localization: a parametric study
Guilherme Seidyo Imai Aldeia, Henrique Ferreira, Kenji Nose Filho
Keywords:
semblance
parametric analysis
parameter optimization
TDOA
Abstract
Recently proposed, the Semblance Based TDOA Algorithm for Sound Source Localization uses a cross-correlation function to determine the direction of a sound source. This article aims to perform a parametric analysis of the algorithm, applying a hypothesis test to determine the importance of each parameter. The results show that, regarding the three original parameters of the algorithm, one presented small sensitivity and can be discarded, and the remaining can be defined based on the desired resolution level, or fixed at low values (at cost of a slower runtime).
Download
Análise de desempenho do canal de acesso aleatório para redes NB-IoT com três níveis de cobertura
Flávia L. S. Fernandes, José Marcos Brito
Keywords:
NB-IoT
Cobertura aprimorada
NPRACH
Acesso aleatório
Abstract
The NB-IoT (Narrowband Internet of Things) aims to connect a massive number of devices that have low power, low data rate and low energy consumption requirements, in a wide coverage area. This paper presents an analysis of the performance of the NPRACH channel (Narrowband Physical Random Access Channel), in terms of delay and throughput, when a device performs the procedure of random access in an NB-IoT network with three levels of enhanced coverage. The performance results are compared with those of an NB-IoT network operating with only one level of coverage, previously published in the literature.
Download