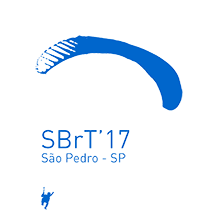 XXXV Simpósio Brasileiro de Telecomunicações e Processamento de Sinais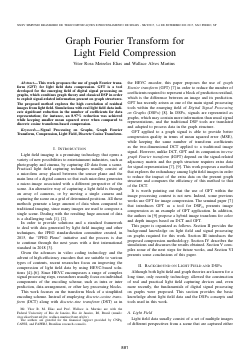 Graph Fourier Transform for Light Field Compression
Vitor Rosa Meireles Elias, Wallace Alves Martins
Keywords:
Signal Processing on Graphs
Graph Fourier Transform
Compression
Light Field
Discrete Cosine Transform
Abstract
This work proposes the use of graph Fourier transform (GFT) for light field data compression. GFT is a tool developed for the emerging field of digital signal processing on graphs, which combines graph theory and classical DSP in order to exploit signal-related information present on graph structures. The proposed method explores the high correlation of residual images from light field. Simulations with real light field data indicate significant reduction in the number of coefficients for data representation; for instance, an 8.97% reduction was achieved while keeping smaller mean squared error when compared to discrete cosine transform-based compression.
Download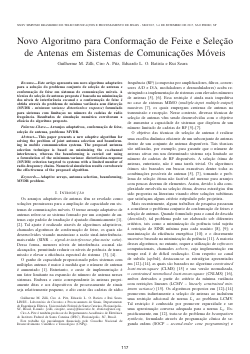 Novo Algoritmo para Conformação de Feixe e Seleção de Antenas em Sistemas de Comunicações Móveis
Guilherme M. Zilli, Ciro A. Pitz, Eduardo L. O. Batista, Rui Seara
Keywords:
Adaptive arrays
antenna selection
beamforming
MVDR problem
Abstract
This paper presents a new adaptive algorithm for solving the problem of joint antenna selection and beamform- ing in mobile communication systems. The proposed antenna selection technique is based on minimizing the co-channel interference, whereas the beamforming is carried out using a formulation of the minimum-variance distortionless-response (MVDR) criterion targeted to systems with a limited number of radio-frequency chains. Numerical simulation results corroborate the effectiveness of the proposed algorithm.
Download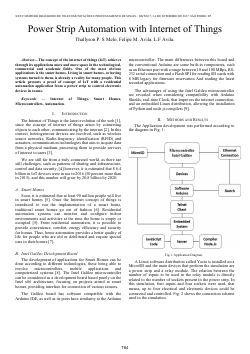 Power Strip Automation with Internet of Things
Thallyson P. S Melo, Felipe M. Avila, L.F Avila
Keywords:
Internet of Things
Smart Homes
Microcontrollers
Automation
Abstract
The concept of the internet of things (IoT) achieves through its applications more and more space in the technological, commercial and academic fields. One of the most obvious applications is the smart homes. Living in smart homes, or having systems turned to them, is already a reality for many people. This article presents a proof of concept of IoT with a residential automation application from a power strip to control electronic devices in rooms.
Download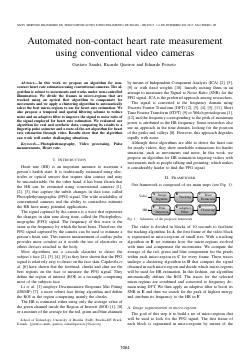 Automated non-contact heart rate measurement using conventional video cameras
Gustavo Sandri, Ricardo Queiroz, Eduardo Peixoto
Keywords:
Photoplestimography
Video processing
Pulse measurements
Heart rate.
Abstract
In this work we propose an algorithm for noncontact heart rate estimation using conventional cameras. The algorithm is robust to movements and works under non-controlled illumination. We divide the frames in micro-regions that are tracked using an optical flow algorithm to compensate for movements and we apply a clustering algorithm to automatically select the best micro-regions to use for heart rate estimation. We also propose a temporal and spatial filtering scheme to reduce noise and an adaptive filter to improve the signal to noise ratio of the signal employed for heart rate estimation. We evaluated our algorithm for real and synthetic data, comparing its results to a fingertip pulse oximeter and a state-of-the-art algorithm for heart rate estimation through video. Results show that the algorithm can work well under challenging situations
Download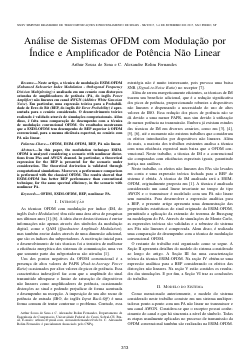 Análise de Sistemas OFDM com Modulação por Índice e Amplificador de Potência Não Linear
Arthur Sousa de Sena, C. Alexandre Rolim Fernandes
Keywords:
OFDM
ESIM-OFDM
BEP
nonlinear PA
Abstract
In this paper, the modulation technique ESIM- OFDM is analyzed considering a scenario with nonlinear distor- tions from PAs and AWGN channel. In particular, a theoretical expression for the BEP is presented for the scenario under consideration. The theoretical derivation is validated through computational simulations. Moreover, a performance comparison is performed with the classical OFDM. The results showed that ESIM-OFDM has better BEP performance than conventional technique, for the same spectral efficiency, in the scenario with nonlinear PA.
Download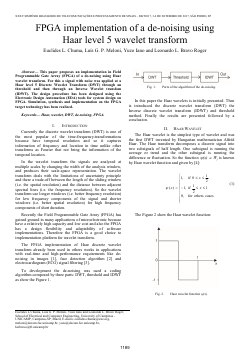 FPGA implementation of a de-noising using Haar level 5 wavelet transform
Euclides L. Chuma, Luís G. P. Meloni, Yuzo Iano, Leonardo L. Bravo Roger
Keywords:
Haar
wavelet
DWT
de-noising
FPGA.
Abstract
This paper proposes an implementation in Field Programmable Gate Array (FPGA) of a de-noising using Haar wavelet transform. For this a signal with noise was applied at a Haar level 5 Discrete Wavelet Transform (DWT) through an threshold and then through an Inverse Wavelet transfom (IDWT). The design procedure has been designed using the Electronic Design Automation (EDA) tools for system design on FPGA. Simulation, synthesis and implementation on the FPGA target technology has been realized.
Download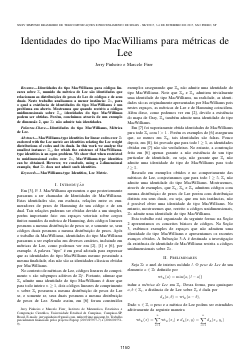 Identidades do tipo MacWilliams para métricas de Lee
Jerry Pinheiro, Marcelo Firer
Keywords:
MacWilliams-type Identities Lee Metric.
Abstract
MacWilliams-type identities for linear codes over Zl endowed with the Lee metric are identities relating the Lee weight distributions of codes and its duals. In this work we analyze the smallest instance: Z5, for which the existence of MacWilliamstype identities is an open problem. We show that when restricted to unidimensional codes over Z5, MacWilliams-type identities can be obtained. However, we conclude, using a 2-dimensional example, that Z5 does not admit such identities
Download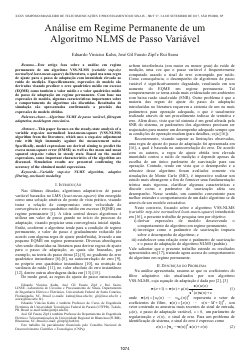 Análise em Regime Permanente de um Algoritmo NLMS de Passo Variável
Eduardo Vinicius Kuhn, José Gil Fausto Zipf, Rui Seara
Keywords:
Variable step-size NLMS algorithm
adaptive filtering
stochastic modeling
Abstract
This paper focuses on the steady-state analysis of a variable step-size normalized least-mean-square (VSS-NLMS) algorithm from the literature, which uses a step-size adjustment rule with high immunity against the measurement noise. Specifically, model expressions are derived aiming to predict the excess mean-square error (EMSE) as well as the mean and mean squared step-size values in steady state. Based on the model expressions, some important characteristics of the algorithm are discussed. Simulation results are presented confirming the accuracy of the obtained model expressions.
Download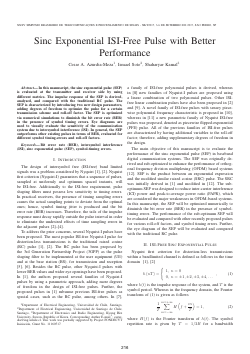 Sinc Exponential ISI-Free Pulse with Better Performance
Cesar A. Azurdia-Meza, Ismael Soto, Shaharyar Kamal
Keywords:
Bit error rate (BER)
intersymbol interference (ISI)
sinc exponential pulse (SEP)
symbol-timing errors.
Abstract
In this manuscript, the sinc exponential pulse (SEP) is evaluated at the transmitter and receiver side by using different metrics. The impulse response of the SEP is derived, analysed, and compared with the traditional RC pulse. The SEP is characterized by introducing two new design parameters, adding degrees of freedom to optimize the pulse for a certain transmission scheme and roll-off factor. The SEP is optimized via numerical simulations to diminish the bit error rate (BER) in the presence of symbol timing errors. Eye diagrams are used to visually evaluate the sensitivity of the communication system due to intersymbol interference (ISI). In general, the SEP outperforms other existing pulses in terms of BER, evaluated for different symbol timing-errors and roll-off factors.
Download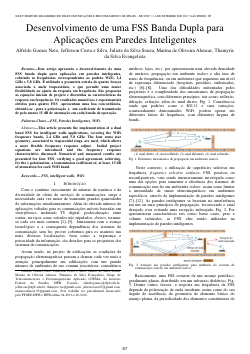 Desenvolvimento de uma FSS Banda Dupla para Aplicações em Paredes Inteligentes
Alfrêdo Gomes Neto, Jefferson Costa, Silva, Juliete da Silva Souza, Marina de Oliveira Alencar, Thamyris da Silva Evangelista
Keywords:
FSS
intelligent walls
WiFi
Abstract
This article presents the implementation of a dual band FSS for intelligent walls applications, covering the WiFi frequency bands, 2.4 GHz and 5.8 GHz. The four arms star geometry, associated to trapezoidal rings, are used, which allows a more flexible frequency response adjust. Initial project equations are introduced and the frequency response characteristics discussed. Numerical and measured results are presented for four FSS, verifying a good agreement, achieving, for the x polarization, a transmission coefficient of, at least, 15 dB of atenuation for each WiFi band.
Download