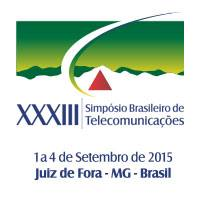 XXXIII Simpósio Brasileiro de Telecomunicações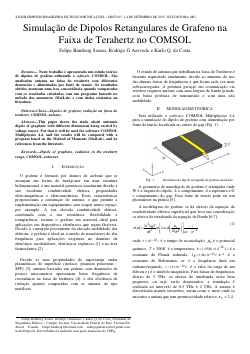 Simulação de Dipolos Retangulares de Grafeno na Faixa de Terahertz no COMSOL
Felipe Bamberg Soares, Rodrigo G Azevedo, Karlo Q. da Costa
Keywords:
Dipolos de grafeno
radiação na faixa do terahertz
COMSOL
antenas
Abstract
This paper shows the study about antennas dipole of graphene with different dimensions being excited by voltage source. For that it will be used the software COMSOL Multiphysics 4.4, and the results will be compared with a program based on the Method of Moments (MatLab), and by references from the literature.
Download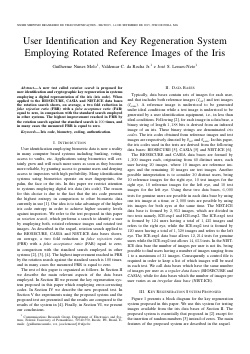 User Identification and Key Regeneration System Employing Rotated Reference Images of the Iris
Guilherme Nunes Melo, Valdemar C. da Rocha Jr., José S. Lemos-Neto
Keywords:
Iris code
biometry
coding
authentication
Abstract
A new test called rotation search is proposed for user identification and cryptographic key regeneration in systems employing a digital representation of the iris (iris code). When applied to the BIOSECURE, CASIA and NIST-ICE data bases the rotation search shows, on average, a two fold reduction in false rejection ratio (FRR) with a false acceptance ratio (FAR) equal to zero, in comparison with the standard search employed in other systems. The highest improvement reached in FRR by the rotation search against the standard search is 100 times, and in many cases the measured FRR is equal to zero.
Download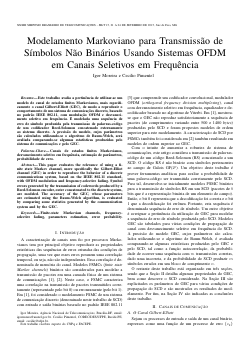 Modelamento Markoviano para Transmissão de Símbolos Não Binários Usando Sistemas OFDM em Canais Seletivos em Frequência
Igor Moreira, Cecilio Pimentel
Keywords:
Finite-state Markovian channels
frequency selective fading
parameters estimation
error probability.
Abstract
This paper evaluates the relevance of using a fi- nite state Markov channel, more specifically the Gilbert-El liot channel (GEC) in order to reproduce the behavior of a discret e communications system, based on the IEEE 802.11 standard, with OFDM modulation and frequency-selective fading. Symb ol errors generated by the transmission of codewords produced by a Reed-Solomon encoder, outer concatenated to the discrete s ystem, are modeled. The accuracy of the GEC, whose parameters are estimated using the Baum-Welch algorithm, is evaluated by comparing some statistics generated by the communicatio n system and by the GEC.
Download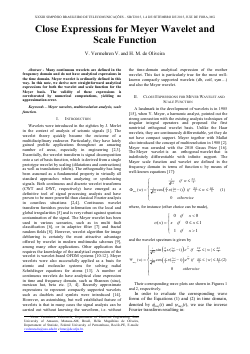 Close Expressions for Meyer Wavelet and Scale Function
Victor Vermehren Valenzuela, Hélio Magalhães de Oliveira
Keywords:
Meyer wavelets
multiresolution analysis
scale function
Abstract
Many continuous wavelets are defined in the frequency domain and do not have analytical expressions in the time domain. Meyer wavelet is ordinarily defined in this way. In this note, we derive new straightforward analytical expressions for both the wavelet and scale function for the Meyer basis. The validity of these expressions is corroborated by numerical computations, yielding no approximation error.
Download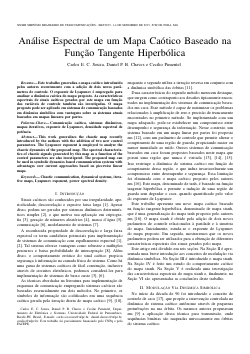 Análise Espectral de um Mapa Caótico Baseado na Função Tangente Hiperbólica
Carlos E. C. Souza, Daniel P. B. Chaves, Cecilio Pimentel
Keywords:
Chaotic communication
dynamical systems
itera- tive maps
Lyapunov exponent
power spectral density
Abstract
This work generalizes the chaotic map recently introduced by the authors with the addition of two new contro l parameters. The Lyapunov exponent is employed to analyze th e chaotic dynamics of the proposed map. The spectral characte ris- tics of chaotic signals generated by this map as a function of the control parameters are also investigated. The proposed map can be used in symbolic dynamics based communication systems wi th advantages over current approaches based on piecewise line ar maps.
Download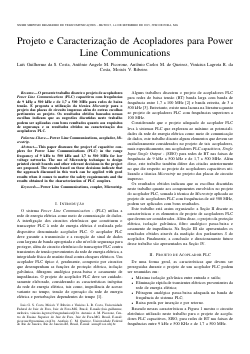 Projeto e Caracterização de Acopladores para Power Line Communications
Lu ́ıs Guilherme da S. Costa, Ant ˆonio Angelo M. Picorone, An t ˆonio Carlos M. de Queiroz, Vin ́ıcius Lagrota R. da Costa, Mois ́es V. Ribeiro
Keywords:
Power Line Communications
coupler
Microstrip
Abstract
This paper discusses the project of capacitive cou- plers for Power Line Communications (PLC) in the range frequency of 9 kHz to 500 kHz and 1,7 to 500 MHz for low voltage networks. The use of Microstrip technique to design printed circuit boards and other relevant decisions in the p roject are proposed. The results based on these decisions indicate that the approach discussed in this work can be applied with good results when it comes to matter the safety requirements and t he results obtained in the characterization of PLC couplers.
Download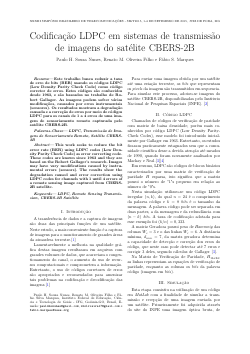 Codificação LDPC em sistemas de transmissão de imagens do satélite CBERS-2B
Paulo H. Souza Nunes, Renato M. Oliveira Filho, Fábio S. Marques
Keywords:
LDPC
Remote Sensing Transmis- sion
CBERS-2B Satellite
Abstract
This work seeks to reduce the bit error rate (BER) using LDPC codes (Low Den- sity Parity Check Code) as error correcting code. These codes are known since 1963 and they are based on the Robert Gallager's research. Images may have vary modifications caused by instru- mental errors (sensors). The results show the degradation caused and error correction using LDPC codes for channels with 1 until 4 errors of a remote sensing image captured from CBERS- 2B satellite.
Download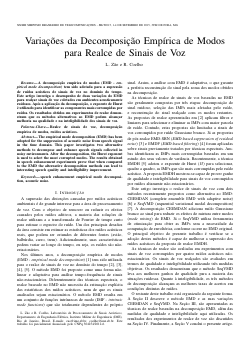 Variações da Decomposição Empírica de Modos para Realce de Sinais de Voz
L. Zão, R. Coelho
Keywords:
speech enhancement empirical mode decomposition
acoustic noise
Abstract
The empirical mode decomposition (EMD) has been adopted for the suppression of acoustic noise from speech si gnal in the time domain. This paper investigates two alternative methods to decompose and enhance speech signals collected i n noisy environments. After the decomposition, the Hurst exp onent is used to select the most corrupted modes. The results obtai ned in speech enhancement experiments prove that when compared to the EMD the alternative decomposition methods can lead to interesting speech quality and intelligibility improvement
Download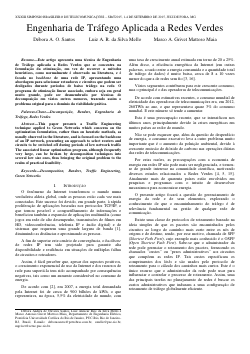 Engenharia de Tráfego Aplicada a Redes Verde
Débora A. O. Santos, Luiz A. R. da Silva Mello, Marco A. Grivet Mattoso Maia
Keywords:
Decomposição
Benders
Engenharia de Tráfego
Redes Verdes
Abstract
This paper presents a Traffic Engineering technique applied to Green Networks which concerns on the optimization formulation, rather than on heuristic methods, as usually observed in the literature, and is focused on the backbone of an IP network, presenting an approach to select routers and circuits to be switched off during periods of low n etwork traffic The associated linear optimization program, although frequently very large, can be broken by decomposition techniqu es into several low size ones, thus bringing the original p roblem to the realm of practical feasibility
Download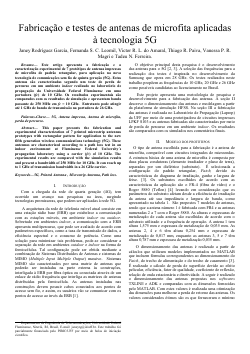 Fabricação e testes de antenas de microfita aplicadas à tecnologia 5G
Vanessa P. R. Magri, Tadeu N. Ferreira, Thiago R. Paiva, Victor R. L. do Amaral, Janey Rodríguez García, Fernanda S. C. Leomil
Keywords:
5G
Printed Antenna
Microstrip Antenna
Path los
Abstract
his paper presents the fabrication and experimental characterization of 7 printed microstrip antennas prototypes with rectangular pattern for application to the new fifth generation wireless communications technology (5G). These antennas are characterized according to a path loss test in an indoor environment at Fluminense Federal University ́s propagation laboratory using a carrier ( fc ) of 10 GHz. The experimental results are compared with the simulation results and present a bandwidth of 250 MHz for 10 GHz. It can reach up to 1 GHz of transmission bandwidth in a 26 GHz carrie
Download