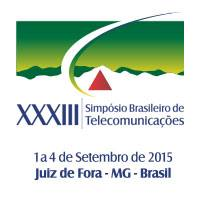 XXXIII Simpósio Brasileiro de Telecomunicações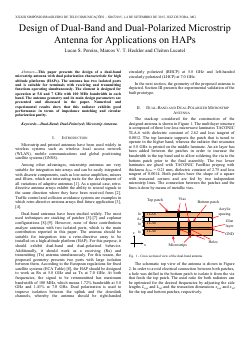 Design of Dual - Band and Dual - Polarized Microstrip Antenna for Applications on HAPs
Marcos V. T. Heckler, Cleiton Lucatel, Lucas S. Pereira
Keywords:
Dual-Band
Dual-Polarized
Microstrip Antenna
Abstract
This paper presents the design of a dual - band microstrip antenna with dual polarization characteristic for high altitude platforms (HAPs ). The antenna has two isolated ports and is suitable for terminals with receiving and transmitting functions operating simultaneously. The element is designed for operation at 5.8 and 7 GHz with 100 MHz bandwidth in each band. The antenna geometry and its main design parameters are presented and discussed in the paper. Numerical and experimental results show that this radiator exhibits good performance in terms of impedance matching and circular polarization purity.
Download
Clustering Strategies applied to Binder Identification using Phantom Measurements
Antoni Fertner, Joao C. W. A. Costa, Reginaldo Santos, Claudomiro Sales Jr., Manoel Lima, Marx Freitas, Caio Rodrigues, Alessandra Araujo
Keywords:
Binder Identification
DSL
Phantom-mode mea- surement
K-means
Gaussian Mixture Model
Abstract
This paper proposes a method for the identification of TPs sharing the same binder, based on the analysis of phantom circuit measurements. Herein, phantoming is used to reveal if a 4-wire loop composed by two TPs are close enough in order to be considered in the same binder. K-means and Gaussian Mixture Model are evaluated on S11 parameter features obtained from the phantom-mode measurement of two TPs. Also, an automatic method to labelling the clusters and a method to estimate the length which two TPs share the same binder are briefly presented. Laboratory results confirm the accuracy of the methods.
Download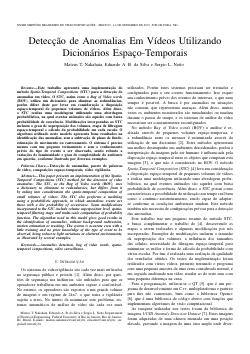 Detecção de Anomalias Em Vídeos Utilizando Dicionários Espaço-Temporais
Mateus T. Nakahata, Eduardo A. B. da Silva, Sergio L. Netto
Keywords:
Anomalies detection
bag of video words
spatio- temporal compositions
video surveillance
Abstract
This paper presents an implementation of the Spatio- Temporal Compositions (STC) method for the detection of video anomalies. The STC, as the Bag of Video words (BOV), uses a dictionary to eliminate to redundancies, but differs from it by taking into consideration the spatio-temporal composition of small volumes of videos. The STC also performs a modeling using a probabilistic approach, in which anomalous events are those with a low probability of occurrence. Some modifications incorporated to the STC include volume superposition level, spatio- temporal filtering stage and multi-scale computation of probability function. The algorithm used in this model gives good results in the identification of anomalies, without background subtraction, motion estimation or tracking. The system is accurate even with a little training and no prior knowledge of the type of event to be observed, being robust to light variations or cluttered environments, as illustrated by several examples.
Download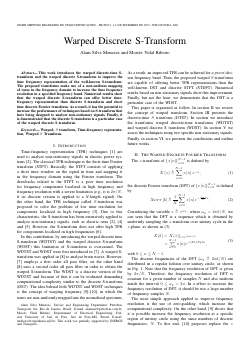 Warped Discrete S-Transform
Alam Silva Menezes, Moisés Vidal Ribeiro
Keywords:
Warped
S transform
Time-frequency representa- tion
Warped S Transform
Abstract
This work introduces the warped discrete-time S- transform and the warped discrete S-transform to improve th e time frequency representation of the well-known S-transfo rm. The proposed transforms make use of a non-uniform mapping of tones in the frequency domain to increase the time frequen cy resolution in a specified frequency band. Numerical results show that the warped discrete S-transform can offer better time- frequency representation than discrete S-transform and sh ort time discrete Fourier transform. As a result, it has the pote ntial to increase the performance of techniques based on S-transfor m that have being designed to analyze non-stationary signals. Fin ally, it is demonstrated that the discrete S-transform is a particul ar case of the warped discrete S-transform.
Download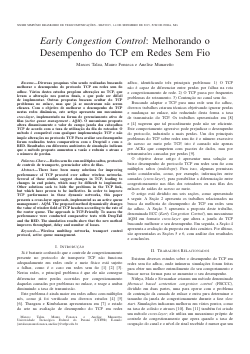 Early Congestion Control : Melhorando o Desempenho do TCP em Redes Sem Fio
Marcos Talau, Mauro Fonseca, Anelise Munaretto
Keywords:
Wireless multihop networks
transport control protocol
active queue management
Abstract
There have been many solutions for improving performance of TCP procotol over adhoc wireless networks. Several of these studies suggest changes in TCP, leading to changes in end points, which may be dif fi cult to implement. Other solutions seek to hide the problems in the TCP link, but which have proven to be ineffective. In order to improve TCP performance in these dynamic networks, this paper presents a cross-layer approach, implemented as an active queue management - AQM. The proposed method dynamically changes the value of window fi eld of TCP headers according to the rate of the router queue. The approach is TCP-Friendly. To assess the performance were conducted comparative tests with DropTail and the RED. The simulation results show that the new method improves throughput, delay and number of losses
Download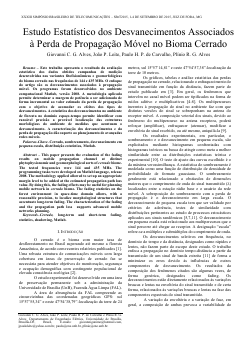 Estudo Estatístico dos Desvanecimentos Associados à Perda de Propagação Móvel no Bioma Cerrado
Paulo H. P. de Carvalho, Plínio R. G. Alves, Giovanni C. G. Alves, João P. Leite
Keywords:
Cerrado
long - term and short - term fading
statistics
shadowing
Matlab
Abstract
This paper presents the evaluation of the fading results on mobile propagation channel at distinct phytophysionomic and geomorphological sorts of cerrado biome. The tested frequencies were 144 and 435 MHz. The programming tasks were developed on Matlab language, release 2008. The methodology applied allowed to set up an appropriate margin level to be added at the estimated propagation path loss value. By doing this, the fading effects may be useful for planning mobile network in cerrado biome. The fading statistics on the forest environment in space - time domain allows, with a reasonable precision, to locali ze morphological structures that accentuate long - term fading. The characterization of the fading and the propagation path loss supports advanced mobile networks planning.
Download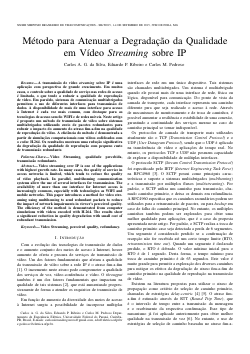 Método para Atenuar a Degradação da Qualidade em Vídeo Streaming sobre IP
Carlos A. G. da Silva, Eduardo P. Ribeiro, Carlos M. Pedroso
Keywords:
Video Streaming
perceived quality
redundancy
Abstract
Video streaming over IP is one of the applications with highest growth rate. In many cases, the quality of service in access networks is limited, which tends to reduce the quality of video playback. In parallel, multihoming communication systems allow the use of several interfaces for transmission. The availability of more than one interface for Internet access is increasingly common, especially with technologies as WIFI and mobile networks. This paper introduces a method for video stre- aming using multihoming to send redundant packets to reduce the impact of network impairments in viewer's perceived quality. The efficiency of the method is demonstrated from computer simulations with videos encoded with H.264. The results show a significant reduction in quality degradation with small cost of redundant transmission.
Download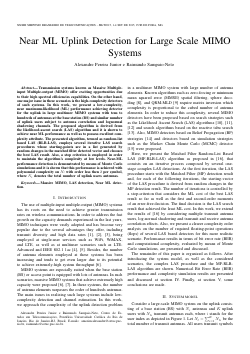 Near ML Uplink Detection for Large Scale MIMO Systems
Alexandre Pereira Junior, Raimundo Sampaio-Neto
Keywords:
Massive MIMO
LAS detection
Near ML detec- tion
Abstract
Transmission systems known as Massive Multiple- input Multiple-output (MIMO) offer exciting opportunitie s due to their high spectral efficiencies capabilities. On the oth er hand, one major issue in these scenarios is the high-complexity de tectors of such systems. In this work, we present a low-complexity, near maximum-likelihood (ML) performance achieving detec tor for the uplink in large multiuser MIMO systems with tens to hundreds of antennas at the base station (BS) and similar num ber of uplink users subject to antenna correlation and lognorma l shadowing channels. The proposed algorithm is derived from the likelihood-ascent search (LAS) algorithm and it is show n to achieve near ML performance as well as to possess excellent c om- plexity attribute. The presented algorithm, termed as rand om-list based LAS (RLB-LAS), employs several iterative LAS search procedures whose starting-points are in a list generated by random changes in the matched filter detected vector and choo ses the best LAS result. Also, a stop criterion is employed in ord er to maintain the algorithm's complexity at low levels. Near- ML performance detection is demonstrated by means of Monte Car lo simulations and it is shown that this performance is achieve d with polynomial complexity on N t with order less then 2 per symbol, where N t denotes the total number of uplink users antennas.
Download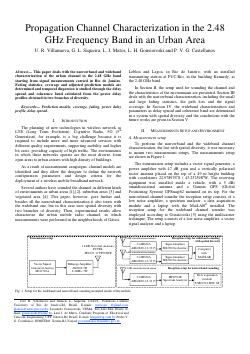 Propagation Channel Characterization in the 2.48 GHz Frequency Band in an Urban Area
U. R. Villanueva, G. L. Siqueira, L. J. Matos, L. H. Gonsioroski, P. V. G. Castellanos
Keywords:
Prediction models
coverage
fading
power delay profile
delay spread
Abstract
This paper deals with the narrowband and wideband characterization of the urban channel in the 2.48 GHz band starting from signal measurements carried in Rio de Janeiro. Fading statistics, coverage and adjusted prediction models are determined and temporal dispersion is studied through the delay spread and coherence band calculated from the power delay profiles obtained in two branches of diversity.
Download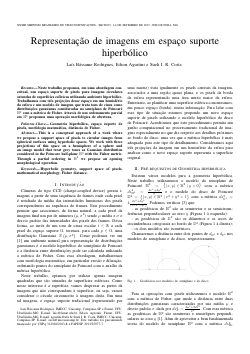 Representação de imagens em espaço suporte hiperbólico
Laís Bássame Rodrigues, Edson Agustini, Sueli I. R. Costa
Keywords:
Hyperbolic geometry
support space of pixels
mathematical morphology
Fisher distance.
Abstract
This is a conceptual approach of a work where we propose a support space of pixels to circular images from spherical surfaces using hyperbolic spaces. We work with three projections of this space on a hemisphere of a sphere and an image model that treat grey tones as Gaussian distribution considered in the Poincare half-plane H 2 with the Fisher metric. Through a partial ordering in H 2 we propose an opening morphological operation.
Download