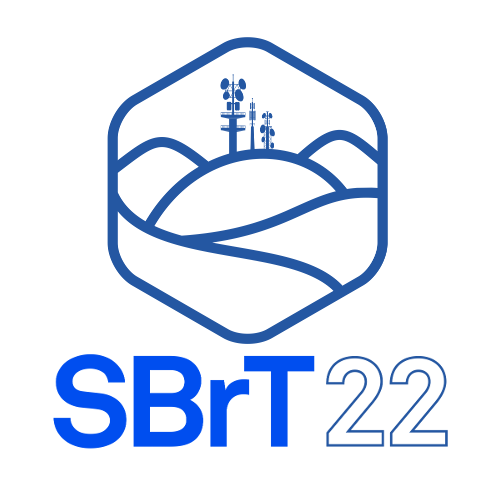 XL Simpósio Brasileiro de Telecomunicações e Processamento de Sinais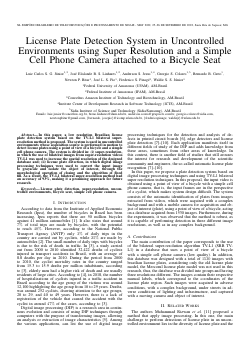 License Plate Detection System in Uncontrolled Environments using Super Resolution and a Simple Cell Phone Camera attached to a Bicycle Seat
Waldir Silva, Luiz Carlos da Silva Garcia Junior LGJ, Georgio S. Colares, José Elislande Breno de Souza Linhares, Anderson de Jesus, Frederico da Silva Pinagé
Keywords:
Abstract
In this paper, a low resolution Brazilian license plate detection system based on the TV-L1 bilateral superresolution method is proposed. The system is used in uncontrolled environments whose acquisition source is performed in motion to detect license plates using a point of view of a bicycle and a simple cell phone camera. The system is divided in: (i) super-resolution, in which the use of bilateral images from super-resolution videos TV-L1 was used to increase the spatial resolution of the designed database and; (ii) license plate detection, in which digital image processing techniques were used to convert the input image to grayscale and isolate the object of interest, through the morphological operation of closing and the algorithm of flood fill. As a result, the TV-L1 bilateral super-resolution method had an accuracy of 93%, making it a promising approach for future research.
Download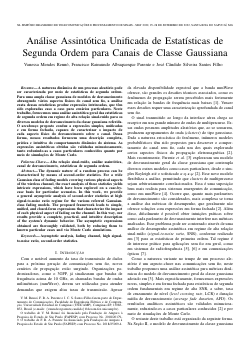 Análise Assintótica Unificada de Estatísticas de Segunda Ordem para Canais de Classe Gaussiana
Vanessa Mendes Rennó, Francisco Raimundo Albuquerque Parente, José Cândido Silveira Santos Filho
Keywords:
Alta relação sinal-ruído
análise assintótica
canal de desvanecimento
estatísticas de segunda ordem
Abstract
A natureza dinâmica de um processo aleatório pode ser caracterizada por meio de estatísticas de segunda ordem. Para uma ampla classe gaussiana de modelos de desvanecimento abrangendo vários aspectos físicos do canal sem fio, a análise exata dessas estatísticas produz expressões intrincadas, que têm sido exploradas caso a caso para cenários particulares. Neste trabalho, fornecemos uma análise assintótica geral das estatísticas de segunda ordem em regime de alta relação sinal-ruído para os diversos modelos de desvanecimento da classe gaussiana referida. O arcabouço proposto conduz a expressões simples, unificadas e em forma fechada, capazes de caracterizar o impacto de cada aspecto físico do desvanecimento sobre o canal. Dessa forma, nossos resultados fornecem uma descrição completa, prática e intuitiva do comportamento dinâmico do sistema. As expressões assintóticas obtidas são validadas minuciosamente, tanto reduzindo-as a casos particulares conhecidos quanto por meio de simulações de Monte Carlo.
Download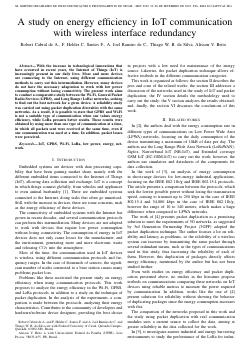 A study on energy efficiency in IoT communication with wireless interface redundancy
Francisco Helder Candido Filho, Robert Cabral, Thiago Werlley, Joel Ramiro
Keywords:
IoT
LoRa
low power
network
Abstract
With the increase in technological innovations that have occurred in recent years, the Internet of Things (IoT) is increasingly present in our daily lives. More and more devices are connecting to the Internet, using different communication methods to carry out this intermediation. However, many devices do not have the necessary adaptation to work with low power consumption without losing connectivity. The present work aims to carry out a comparative study between the Wi-Fi, General Packet Radio Services (GPRS) and Long Range (LoRa) networks, seeking to find out which is the best network for a given device. With the same networks, a reliability study was carried out, using packet duplication diversities. As a result, it is possible to state that GPRS and Wi-Fi is not a good type of communication when one values energy efficiency, while LoRa presents better results. These results were obtained by using more than one type of communication at a time, in which all packets sent were received at the same time, even if one communication was used at a time, in addition, packet losses were perceived.
Download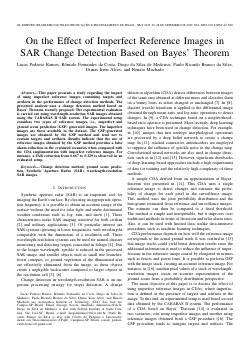 On the Effect of Imperfect Reference Images in SAR Change Detection Based on Bayes' Theorem
Lucas Pedroso Ramos, Rômulo Fernandes da Costa, Diego da Silva de Medeiros, Paulo Branco da Silva, Dimas Irion Alves, Renato Machado
Keywords:
Synthetic Aperture Radar (SAR)
ground scene prediction (GSP)
wavelength-resolution SAR images
change detection method
Abstract
This paper presents a study regarding the impact of imperfect reference images containing targets and image formation issues in the performance of change detection methods for wavelength-resolution SAR images. The presented analysis uses a change detection method based on Bayes' Theorem recently proposed. The experimental evaluation is carried out using real data obtained using the CARABAS II SAR system. The experimental setup is evaluated using imperfect reference images and considering images obtained using ground scene prediction (GSP) methods. The GSP-generated images tend not to contain targets and are not significantly affected by image formation issues. Results indicate that the use of reference images obtained by using GSP provided a false alarm reduction in the evaluated scenarios when compared with the CDA implementation associated with imperfect reference images. For instance, in an evaluated setup in this paper, a FAR reduction from 0.667 to 0.229 is observed.
Download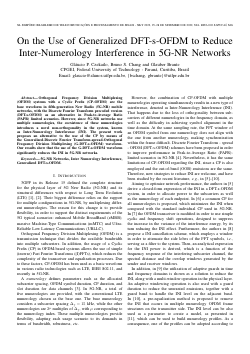 On the use of Generalized DFT-s-OFDM to reduce Inter-Numerology Interference in 5G-NR networks
Samuel Mafra, Gláucio Porcides Czekailo, Bruno Chang, Glauber Brante
Keywords:
Abstract
OFDM systems with a cyclic prefix (CP-OFDM) are the basic waveform in fifth-generation New Radio (5G-NR) mobile networks, with their Discrete Fourier Transform precoded version (DFT-s-OFDM) as an alternative in Peak to Average Ratio (PAPR) limited scenarios. Since 5G-NR networks use multiple numerologies, it is known that this introduces a novel non-orthogonality in the system, which causes Inter-Numerology Interference (INI). The present work presents an alternative to the use of a cyclic prefix, through the usage of the Generalized-Discrete Fourier Transform-spread-Orthogonal Frequency Division Multiplexing (G-DFT-s-OFDM) waveform. We show that this waveform significantly reduces the INI in 5G-NR networks.
Download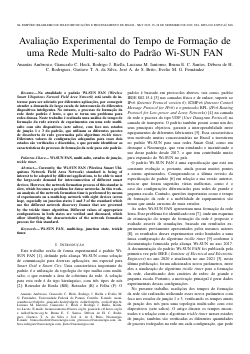 Avaliação Experimental do Tempo de Formação de uma Rede Multi-salto do Padrão Wi-SUN FAN
Ananías Ambrosio, Giancarlo Covolo Heck, Rodrigo Riella, Luciana Iantorno, Bruna Action, Débora de H. Catão Rodrigues, Gustavo T. A. da Silva, José A. S. Brito, Evelio Fernandez
Keywords:
Wi-SUN FAN
multi-salto
estados de junção
trickle timer
Abstract
Na atualidade o padrão Wi-SUN FAN (Wireless Smart Ubiquitous Network Field Area Network) está sendo de interesse para ser adotado por diferentes aplicações, por conseguir atender a demanda de larga escala de interconexão de diferentes dispositivos inteligentes. No entanto, o processo de formação da rede deste padrão é lento, o que se torna um problema para redes densas. Neste trabalho é realizada uma análise do tempo de formação da rede através de experimentos em uma rede multi-salto com oito dispositivos (sete saltos), com foco nos estados de junção 1 e 3 do padrão, que utilizam os diferentes pacotes de descoberta de rede governados pelo algoritmo trickle timer. Diferentes valores de configurações adequadas para esses dois estados são verificados e discutidos, o que permite identificar as características do processo de formação da rede para este padrão.
Download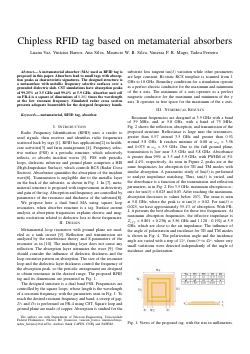 Chipless RFID tag based on metamaterial absorbers
Luana Vaz, Vinicius Barros, Ana Silva, Maurício Weber, Vanessa Magri, Tadeu Ferreira
Keywords:
Metamaterial
RFID tag
absorber
Abstract
A metamaterial absorber used as RFID tag is proposed in this paper. Absorbers lead to small tags with absorption peaks as characteristic signatures. The designed structure is a metasurface with metallic frequency selective surfaces over a grounded dielectric slab. CST simulations have absorption peaks of 99.25% at 3.5 GHz and 99.4% at 5.9 GHz. Absorber unit cell on FR-4 is a square of dimensions of 0.201 times the wavelength at the low resonant frequency. Simulated radar cross section presents adequate beamwidth for the designed frequency bands.
Download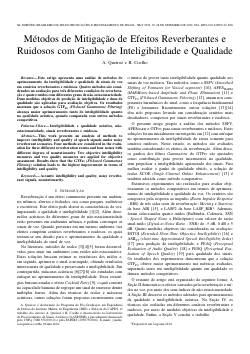 Métodos de Mitigação de Efeitos Reverberantes e Ruidosos com Ganho de Inteligibilidade e Qualidade
Anderson Queiroz, Rosângela Coelho
Keywords:
Inteligibilidade e qualidade acústica
sinais reverberantes e ruidosos
não-estacionariedade
Abstract
This work presents an analysis of methods to improve intelligibility and quality of speech signals under noisy reverberant scenarios. Four methods (SSFV, APES_HARM, SCOE and GTF_F0) are considered in the evaluation for three different reverberation rooms and four noises with different degrees of nonstationarity. Two objective intelligibility measures (ESTOI and ASII_ST) and two quality measures (PEAQ and PESQ) are applied for objective assessment. Results show that the GTF_F0 solution leads to the highest improvement in terms of intelligibility and quality.
Download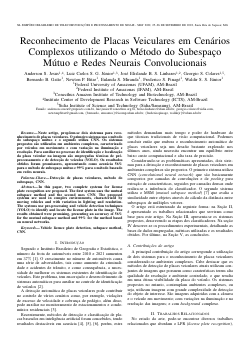 Reconhecimento de Placas Veiculares em Cenários Complexos utilizando o Método do Subespaço Mútuo e Redes Neurais Convolucionais
Anderson de Jesus, Waldir Silva, Newton Pinheiro Bitar, Eulanda Santos, Georgio S. Colares, Luiz Carlos da Silva Garcia Junior, José Elislande Breno de Souza Linhares, Frederico da Silva Pinagé, Bernardo Gatto
Keywords:
Detecção de placas veiculares
Método do subespaço
CNN
Abstract
Neste artigo, propõem-se dois sistemas completos para reconhecimento de placas veiculares, um baseado em redes neurais e outro no método de subespaço mútuo. Os sistemas propostos são utilizados em ambientes complexos, caracterizado por veículos em movimento e com variação na iluminação e resolução. Os sistemas utilizam técnicas de pré-processamento e de detecção de veículos (detector YOLO) para identificar e localizar a placa veicular na imagem. Na etapa de classificação, o primeiro sistema usa o método do subespaço mútuo, a partir dos ângulos canônicos entre os subespaços não lineares e o segundo utiliza CNN para detecção das placas veiculares. Os resultados obtidos foram promissores, apresentando como acurácia 56% para o método de subespaço mútuo e 99% para o método baseado em redes neurais.
Download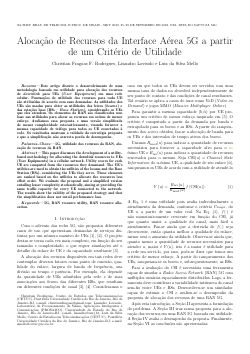 Alocação de Recursos da Interface Aérea 5G a partir de um Critério de Utilidade
Christian Fragoas Fernandez Rodrigues, Lisandro Lovisolo, Luiz da Silva Mello
Keywords:
5G
utilidade de recursos da RAN
alocação de recursos da RAN
Abstract
Este artigo discute o desenvolvimento de uma metodologia baseada em utilidade para alocação dos recursos de downlink para UEs (User Equipment) em uma rede celular. Pontuações de utilidade dos recursos para cada UE são atribuídas de acordo com suas demandas. As utilidades dos UEs são usadas para obter as utilidades dos feixes (beams) e das estações base (BSs, Base Station), considerando os UEs que eles atendem. Os elementos da RAN são classificados com base nas utilidades para alocar os recursos em ordem de menor esforço. Avaliamos essa proposta e uma versão simplificada de menor complexidade estocasticamente, visando fornecer a mesma capacidade de tráfego para todos os UE conectados à rede. Os resultados mostram a validade da estratégia de alocação de recursos proposta e que a simplificação não acarreta perda de desempenho.
Download