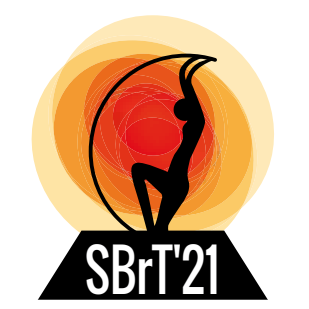 XXXIX Simpósio Brasileiro de Telecomunicações e Processamento de Sinais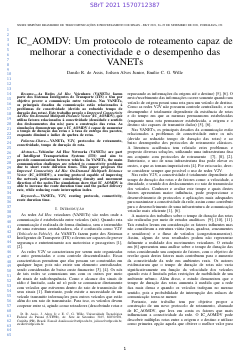 IC_AOMDV: Um protocolo de roteamento capaz de melhorar a conectividade e o desempenho das VANETs
Danilo Renato de Assis, Joilson Alves Junior, Emilio C G Wille
Keywords:
VANETs
protocolos de roteamento
conectividade
tempo de duração de rota
Abstract
In Vehicular Ad Hoc Networks (VANETs) the main communication challenges are related to connectivity problems due to short route duration times. This paper proposes the Improved Connectivity Ad Hoc On-Demand Multipath Distance Vector (IC_AOMDV), a routing protocol capable of improving the network performance considering density and movement direction of the nodes. The simulations show that IC_AOMDV is capable of improving a set of performance metrics.
Download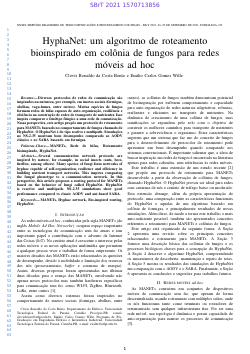 HyphaNet: um algoritmo de roteamento bioinspirado em colônia de fungos para redes móveis ad hoc
Clovis R. C. Bento, Emilio C G Wille
Keywords:
MANETs
Rede de hifas
Roteamento bioinspirado
HyphaNet
Abstract
Several communication network protocols are inspired by nature, for example, in social insects (ants, bees, fireflies, among others). Many species of fungi form networks of hyphae capable of self-organization, resilience and efficiency in building nutrient transport networks. This inspires comparing the fungal phenotype to a communication network. In this perspective, this article studies a routing protocol for MANETs based on the behavior of fungi called HyphaNet. HyphaNet is reactive and multipath. NS-2.35 simulations show good performance compared to classic AODV and ant-based SARA.
Download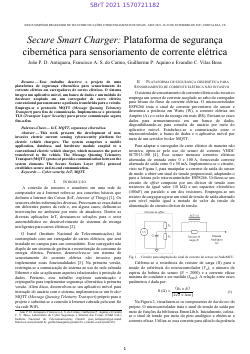 Secure Smart Charger: Plataforma de segurança cibernética para sensoriamento de corrente elétrica
João Antiquera, Francisco do Carmo, Guilherme Pedro Aquino, Evandro Cesar Vilas Boas
Keywords:
IoT
MQTT
segurança cibernética
Abstract
This work presents the development of non-invasive electric current sensing cybersecurity platform for electric vehicle chargers. The system comprises a mobile application, database, and hardware module coupled to a conventional electric vehicle charger, which measures the power transferred to the vehicle. The Message Queuing Telemetry Transport (MQTT) protocol provides communication between the system elements. The Secure Sockets Layer (SSL) protocol establishes secure end-to-end communication.
Download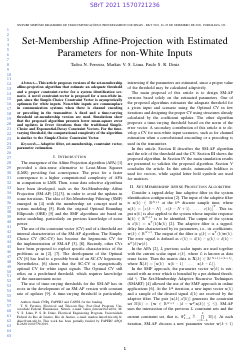 Set-Membership Affine-Projection with Estimated Parameters for non-White Inputs
Tadeu Ferreira, Markus V. S. Lima, Paulo Diniz
Keywords:
Adaptive filtering
set-membership
constraint-vector
parameter estimation
Abstract
This article proposes versions of the set-membership affine-projection algorithm that estimate an adequate threshold and a proper constraint-vector for a system identification scenario. A novel constraint-vector is proposed for a non-white input, since the Simple-Choice Constraint Vector is asymptotically optimum for white inputs. Non-white inputs are commonplace in communication systems when there is channel encoding or precoding in the transmitter. A fixed and a time-varying threshold set-membership version are used. Simulations show that the proposed algorithm presents lower mean-square error and updates in fewer iterations than the traditional Simple-Choice and Exponential-Decay Constraint Vectors. For the time-varying threshold, the computational complexity of the algorithm is similar to the Simple-Choice Constraint Vector.
Download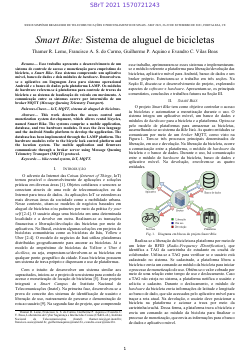 Smart Bike: Sistema de aluguel de bicicletas
Thamer R Leme, Francisco do Carmo, Guilherme Pedro Aquino, Evandro Cesar Vilas Boas
Keywords:
IoT
MQTT
sistema de aluguel de bicicletas
Abstract
This work describes the access control and monetization system development, which allows rental bicycles, named Smart Bike. The systems comprise a mobile application, database, and two hardware modules. It uses the Java language and the Android Studio platform to develop the application. The database has been implemented through the LAMP platform. The hardware modules refer to the bicycle lock control platform and the location system. The mobile application and firmware communicate through a broker server using Message Queuing Telemetry Transport (MQTT) protocol.
Download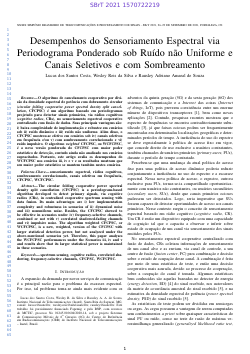 Desempenhos do Sensoriamento Espectral via Periodograma Ponderado sob Ruído não Uniforme e Canais Seletivos e com Sombreamento
Lucas dos Santos Costa, Wesley Silva, Rausley Adriano Amaral de Souza
Keywords:
sensoriamento espectral
rádios cognitivos
sombreamento correlacionado
canais seletivos em frequência
Abstract
O algoritmo de cancelamento cooperativo por divisão da densidade espectral de potência com dobramento circular (circular folding cooperative power spectral density split cancellation, CFCPSC) é um algoritmo baseado em periodogramas projetado para detectar sinais primários, via rádios cognitivos (cognitive radios, CRs), no sensoriamento espectral cooperativo centralizado com fusão de dados. Suas principais vantagens são: i) baixa complexidade de implementação e robustez em cenários sob ii) ruído dinâmico e iii) ruído não uniforme. Além disso, o CFCPSC mostrou-se efetivo em cenários sob iv) canais seletivos em frequência e/ou v) com sombreamento correlacionado e vi) ruído impulsivo. O algoritmo weighted CFCPSC, ou WCFCPSC, é a nova versão ponderada do CFCPSC com maior poder estatístico de detecção, contudo ainda não analisado nos cenários supracitados. Portanto, este artigo avalia os desempenhos do WCFCPSC nos cenários iii, iv e v e os resultados mostram que seu maior poder estatístico se mantem também nestes cenários.
Download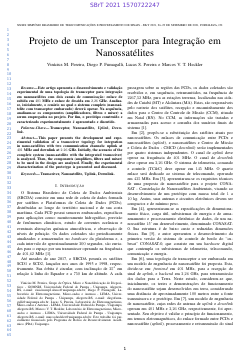 Projeto de um Transceptor para Integração em Nanossatélites
Vinícius M Pereira, Diego Fumagalli, Lucas Pereira, Marcos V. T. Heckler
Keywords:
Transceptor
Nanossatélite
Uplink
Downlink
Abstract
Este artigo apresenta o desenvolvimento e validação experimental de uma topologia de transceptor para integração em nanossatélites com dois canais de comunicação: enlace de subida em 401 MHz e enlace de descida em 2,26 GHz. Analisa-se, inicialmente, o cenário no qual o sistema completo (nanossátelite com transceptor embarcado) deverá operar. Na sequência, analisam-se os componentes (amplificadores, filtros e mixer) a serem empregados no projeto. Por fim, o protótipo construído e caracterizado experimentalmente é apresentado e discutido.
Download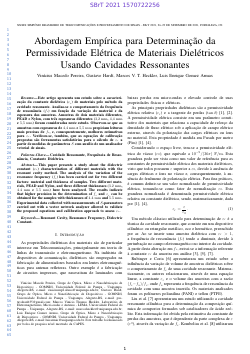 Abordagem Empírica para Determinação da Permissividade Elétrica de Materiais Dielétricos Usando Cavidades Ressonantes
Vinícius M Pereira, Gustavo Hardt, Marcos V. T. Heckler, Luis Armas
Keywords:
Cavidade Ressonante
Frequência de Ressonância
Constante Dielétrica
Abstract
Este artigo apresenta um estudo sobre a caracterização da constante dielétrica (εr) de materiais pelo método da cavidade ressonante. Analisa-se o comportamento da frequência de ressonância (fc) em função da variação do material e espessura das amostras. Amostras de dois materiais diferentes, PEAD e Nylon, com três espessuras diferentes (3,2 mm, 4,4 mm e 5,5 mm) foram consideradas neste estudo. Observou-se que as amostras com espessuras de 4,4 mm e 5,5 mm propiciam leituras mais precisas de fc, e, consequentemente, melhores estimativas para εr. Verificou-se, também, que as equações de calibração propostas são ferramentas satisfatórias para o cálculo de εr a partir de medidas de parâmetros S com auxílio de um analisador vetorial de sinais.
Download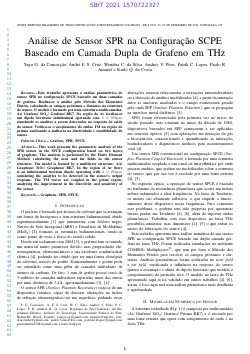 Análise de Sensor SPR na Configuração SCPE Baseado em Camada Dupla de Grafeno em THz
Yago G da Conceição, André Felipe Cruz, Wendria Silva, Andrey Pires, Patrik C Lopes, Paulo Amaral, Karlo Queiroz Costa
Keywords:
Grafeno
SPR
SPCE
Abstract
Este trabalho apresenta a análise paramétrica do sensor SPR na configuração SPCE baseada em duas camadas de grafeno. A análise é realizada pelo Método dos Elementos Finitos, calculando os campos próximos e distantes na estrutura do sensor. O modelo é formado por uma estrutura multicamadas: Ar/ Grafeno/ SiO2/ Grafeno/ BK7. Na região de Ar existe um dipolo hertziano infinitesimal operando com λ ≃ 250µm simulando os analitos a serem detectados na resposta de saída do sensor. As ondas TM são acopladas na região do prisma, analisando a melhora na diretividade e sensibilidade do sensor.
Download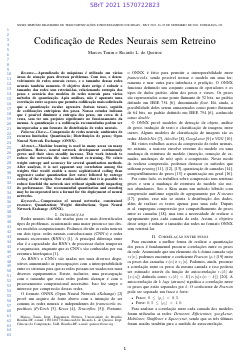 Codificação de Redes Neurais sem Retreino
Marcos Vinicius Tonin, Ricardo L de Queiroz
Keywords:
Compressão de redes neurais
ambientes de recursos limitados
Distribuições de pesos
Open Neural Network Exchange (ONNX)
Abstract
Machine learning is used in many areas on many problems. Hence, neural network development continuously grows and their sizes steadily increase. This work intends to reduce the networks file sizes without re-training. We relate weight entropy and accuracy for several quantization methods. It is not apparent any correlation among the weights that would enable a more sophisticated coding than aggressive scalar quantization followed by entropy coding of the weights. Our studies indicate that it is possible to reduce fourfold the network size without significantly impacting its performance. The recommended quantization and encoding may be incorporated into a format for the deployment of neural networks.
Download