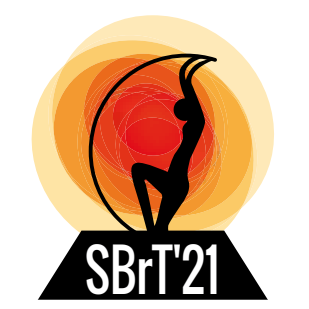 XXXIX Simpósio Brasileiro de Telecomunicações e Processamento de Sinais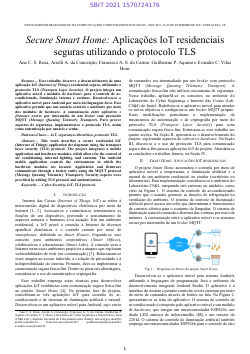 Secure Smart Home: Aplicações IoT residenciais seguras utilizando o protocolo TLS
Ana Clara Rosa, Arielli da Conceição, Francisco do Carmo, Guilherme Pedro Aquino, Evandro Cesar Vilas Boas
Keywords:
IoT
Segurança Cibernética
Protocolo TLS
Abstract
This work describes a secure residential IoT (Internet of Things) application development using the transport layer security (TLS) protocol. The project integrates a mobile application and hardware modules, which allows for the control of air conditioning, internal lighting, and curtains. The Android mobile application controls the environment in which the hardware modules are located. Application and firmware communicate through a broker entity using the MQTT protocol (Message Queuing Telemetry Transport). Security aspects were provided by adding TLS protocol and authentication.
Download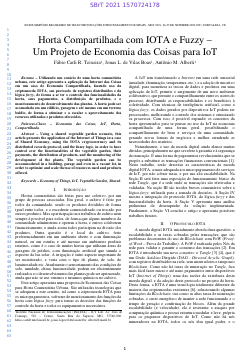 Horta Compartilhada com IOTA e Fuzzy - Um Projeto de Economia das Coisas para IoT
Fábio C. R. Teixeira, Antonio M Alberti, Jonas L de Vilas Boas
Keywords:
Economia das Coisas
IoT
Horta
Compartilhada
Abstract
Using a shared vegetable garden scenario, this article presents the application of the Internet of Things in a case of Shared Economy, using the IOTA cryptocurrency and its distributed records protocol, and the fuzzy logic, in order to have control over the functionalities of the vegetable garden, their payments, the distribution of products, and the monitoring of the development of the plants. The vegetable garden can be communal and even integrated with a Smart City, in order to optimize and scale more exponentially the use of the resources used and products offered.
Download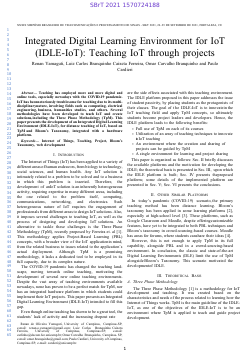 Integrated Digital Learning Environment for IoT(IDLE): Teaching IoT through projects
Renan Yamaguti, Luiz Carlos Branquinho Caixeta Ferreira, Omar C Branquinho, Paulo Cardieri
Keywords:
Internet of Things
Teaching
Project Based Learning
Web Development
Abstract
Teaching has employed more and more digital and online tools, especially nowadays with the pandemic. IoT has been notoriously troublesome for teaching due to its multi-disciplinary nature, involving fields such as computing, electrical engineering, business, humanities, and others. Several methodologies have been developed for IoT teaching IoT and for developing solutions, including the Three Phase Methodology (TpM). This paper presents the development of an Integrated Digital Learning Environment (IDLE), for distance teaching of IoT, based on TpM and Bloom's Taxonomy, integrated with a hardware platform.
Download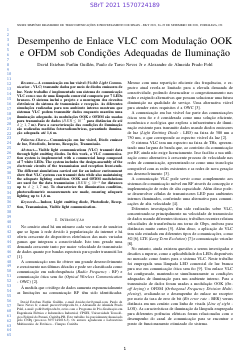 Desempenho de enlace VLC com Modulação OOK e OFDM sob Condições Adequadas de Iluminação
David Esteban Farfán, Paulo de Tarso Neves Jr., Alexandre Pohl
Keywords:
Comunicação em luz visível
LED
Fotodiodo
Interior
Abstract
Visible light communications (VLC) transmit data through light emitting diodes. In this work, a VLC communication system is implemented with a commercial lamp composed of 7 white LEDs. The system includes the design-assembly of the electronic circuits of the transmission and reception front-ends. The different simulations carried out for an indoor environment show that VLC systems can transmit data while also maintaining the adequate lighting condition. OOK and OFDM modulations are used for the data transmission (BER ≤ 10 −3 for distances up to d ≥ 1, 7 m). To characterize the illumination condition, photoradiometric measurements are made, ensuring adequate lighting up to 1,6 m.
Download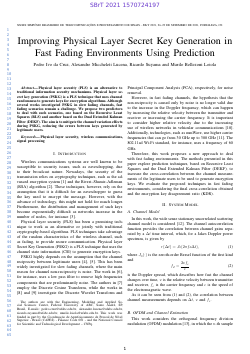 Improving Physical Layer Secret Key Generation in Fast Fading Environments Using Prediction
Pedro Ivo da Cruz, Alexandre Miccheleti Lucena, Ricardo Suyama, Murilo Bellezoni Loiola
Keywords:
Physical layer security
wireless communications
signal processing
Abstract
Physical layer security (PLS) is an alternative to traditional information security mechanisms. Physical layer secret key generation (PSKG) is a PLS technique that uses channel randomness to generate keys for encryption algorithms. Although several works investigated PSKG in slow fading channels, fast fading scenarios remain a challenge. We propose two predictors to deal with such scenarios, one based on the Recursive Least Squares (RLS) and another based on the Dual Extended Kalman Filter (DEKF). The aim is to mitigate the channel variation effects during PSKG, reducing the errors between keys generated by legitimate users.
Download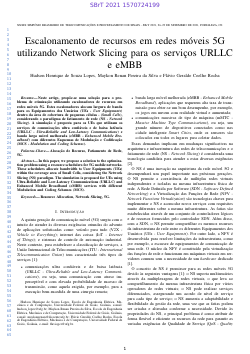 Escalonamento de recursos em redes móveis 5G utilizando Network Slicing para os serviços URLLC e eMBB
Hudson Henrique de Souza Lopes, Maykon Renan Pereira da Silva, Flávio Geraldo Coelho Rocha
Keywords:
Resource Allocation
Network Slicing
5G
Abstract
In this paper, we propose a solution to the optimization problem of a resource scheduler for 5G mobile communication networks. This scheduler allocates bandwidth to User Equipments (UEs) within the coverage area of Small Cells, considering the Network Slicing (NS) paradigm. The simulation is proposed for UEs using Ultra-Reliable and Low-Latency Communications (URLLC) and Enhanced Mobile Broadband (eMBB) services with different Modulation and Coding Schemes (MCS).
Download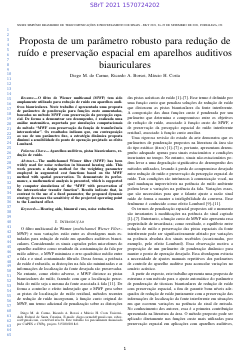 Proposta de um parâmetro robusto para redução de ruído e preservação espacial em aparelhos auditivos biauriculares
Diego Marques do Carmo, Ricardo Augusto Borsoi, Marcio H Costa
Keywords:
Redução de ruído
pistas biauriculares
aparelhos auditivos
Abstract
O filtro de Wiener multicanal (MWF) tem sido amplamente utilizado para redução de ruído em aparelhos auditivos biauriculares. Neste trabalho é apresentada uma proposta de parâmetro de ponderação para funções custo aumentadas, baseadas no método MWF com preservação da percepção espacial. De forma a demonstrar seu desempenho, é realizada uma análise matemática, suportada por simulações computacionais do método "MWF com preservação da função de transferência interauricular". Os resultados indicam que, em contraposição ao uso de um parâmetro fixo, a estratégia dinâmica proposta diminui a sensibilidade do ponto de operação projetado ao efeito Lombard.
Download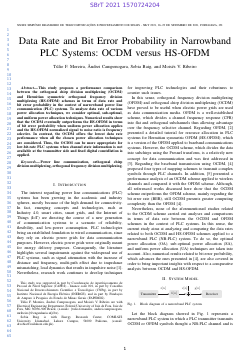 Data rate and bit error probability in Narrowband PLC systems: OCDM versus HS-OFDM
Túlio F. Moreira, Ândrei Camponogara, Sobia Baig, Moises Vidal Ribeiro
Keywords:
Power Line Communication
Orthogonal chirp division multiplexing
Orthogonal frequency division multiplexing
Abstract
This study proposes a performance comparison between the orthogonal chirp division multiplexing (OCDM) and Hermitian symmetric orthogonal frequency division multiplexing (HS-OFDM) schemes in terms of data rate and bit error probability in the context of narrowband power line communication (PLC) systems. To analyze data rate of various power allocation techniques, we consider optimal, sub-optimal, and uniform power allocation techniques. Numerical results show that the OCDM eventually outperforms the HS-OFDM in terms of bit error probability when uniform power allocation applies and the HS-OFDM normalized signal to noise ratio is frequency selective. In contrast, the OCDM offers the lowest data rate performance when all the chosen power allocation techniques are considered. Thus, the OCDM can be more appropriate for low-bit-rate PLC systems when channel state information is not available at the transmitter side and fixed digital constellation is applied.
Download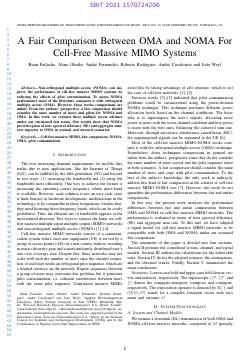 A Fair Comparison Between OMA and NOMA For Cell-Free Massive MIMO Systems
Ruan Victor Pereira Failache, Aline A Ohashi, André Fernandes, Roberto Menezes Rodrigues, Andre Mendes Cavalcante, Joao Weyl Costa
Keywords:
Cell-free massive MIMO
Fair comparison
NOMA
Pilot contamination
Abstract
Non-orthogonal multiple access (NOMA) can improve the performance of cell-free massive MIMO systems by reducing the effects of pilot contamination. To assess NOMA performance most of the literature compares it with orthogonal multiple access (OMA). However, these works comparisons are unfair. From the authors' perspective, a fair comparison should consider the same number of users and pilots for NOMA and OMA. In this work, we evaluate these multiple access schemes under our envisioned fair terms. Our results show that NOMA provides gains of user spectral efficiency (SE) and aggregate sum-rate superior to OMA in normal and stressed scenarios.
Download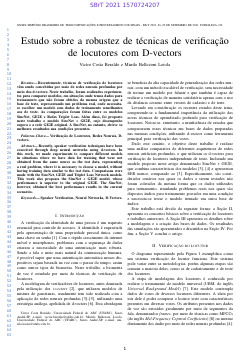 Estudo sobre a robustez de técnicas de verificação de locutores com D-vectors
Victor Costa Beraldo, Murilo Bellezoni Loiola
Keywords:
Speaker Verification
Neural Networks
D-Vectors
Abstract
Recently, speaker verification techniques have been conceived through deep neural networks using d-vectors. In this work, we made experiments to compare different models in situations where we have data for training that were not obtained from the same source as the test data, representing a real problem, where it is necessary to choose a model, without having training data similar to the test data. Comparisons were made with the SincNet, GE2E and Triplet Loss Network models. This work also proposes the SincNet + GE2E model, whose performance is superior to the original GE2E. The SincNet, however, obtained the best performance results in the current scenarios.
Download