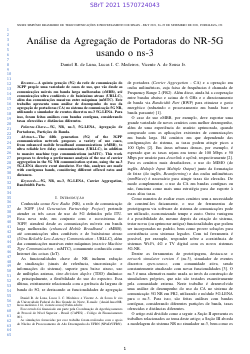 Análise da Agregação de Portadoras do NR-5G usando o ns-3
Daniel R. de Luna, Lucas I. C. Medeiros, Vicente A. de Sousa Jr.
Evento: XXXIX Simpósio Brasileiro de Telecomunicações e Processamento de Sinais (SBrT2021)
Keywords:
5G
NR
Agregação de portadoras
ns-3
Abstract
The fifth generation (5G) of the 3GPP communication network proposes a variety of use cases, from enhanced mobile broadband communications (eMBB), to ultra reliable low delay communications (URLLC), in addition to massive machine type communications (mMTC). This work proposes to develop a performance analysis of the use of carrier aggregation in the 5G NR communication system, using the ns-3 5G-LENA discrete event simulator. For this, analyzes are made with contiguous bands, considering different offered rates and distances.
Download