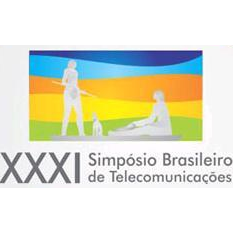 XXXI Simpósio Brasileiro de Telecomunicações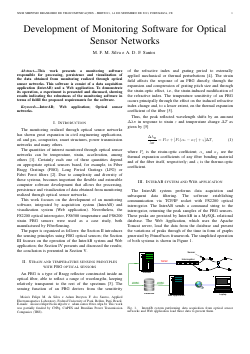 Development of Monitoring Software for Optical Sensor Networks
M. F. M. Silva, A. D. F. Santos
Keywords:
InterAB
Web application
Optical sensor networks
Abstract
This work presents a monitoring software responsible for processing, persistence and visualization of the data obtained from monitoring realized through optical sensor networks. This software is consist of a data acquisition application (InterAB) and a Web application. To demonstrate its operation, a experiment is presented and discussed, showing results indicating the robustness of the monitoring software in terms of fulfill the proposed requirements for the software.
Download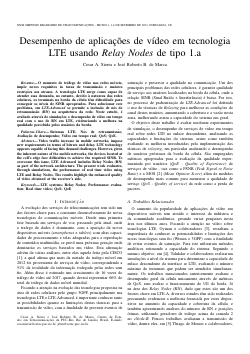 Desempenho de aplicações de vídeo em tecnologia LTE usando Relay Nodes de tipo 1.a
Cesar A. Sierra, Jose Roberto B. de Marca
Keywords:
LTE systems
Relay Nodes
Performance evaluation
Real time video
QoS
QoE
Abstract
Video traffic increase in mobile networks, impose new requirements in terms of bitrate and delay. LTE technology appears capable of facing this demand challenges. However, given the inherent nature of the mobile networks, the devices located at the cell's edge face difficulties to achieve the required SINR. To overcome this issue, LTE Advanced includes Relay Nodes (RN) as part of the network architecture. The present work evaluates, through simulations, the performance of real time video using LTE and Relay Nodes. The results highligh the enhanced quality of video obtained at the receiver's side.
Download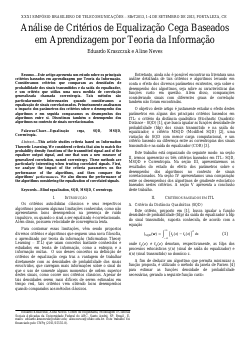 Análise de Critérios de Equalização Cega Baseados em Aprendizagem por Teoria da Informação
Eduardo Kraszczuk, Aline Neves
Keywords:
Equalização cega
SQD
MSQD
Correntropia
Abstract
Este artigo apresenta um estudo sobre os principais critérios baseados em aprendizagem por Teoria da Informação. Consideramos critérios que comparam as densidades de probabilidade dos sinais transmitidos e da saída do equalizador, e um critério que utiliza uma nova medida de correlação generalizada chamada correntropia. Tais métodos são particularmente interessantes quando consideramos a equalização de sinais correlacionados. Primeiramente analisamos o impacto dos parâmetros dos critérios sobre o desempenho dos algoritmos e em seguida comparamos os desempenhos dos algoritmos entre si. Discutimos também o desempenho dos algoritmos no contexto de sinais correlacionados.
Download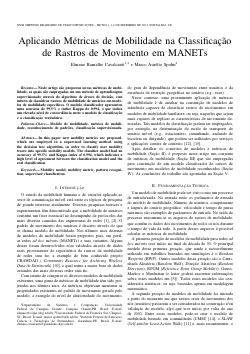 Aplicando Métricas de Mobilidade na Classificação de Rastros de Movimento em MANETs
Elmano Ramalho Cavalcanti, Marco Aurélio Spohn
Keywords:
Modelo de mobilidade
métrica de mobilidade
reconhecimento de padrões
classificação supervisionada
Abstract
Neste artigo são propostas novas métricas de mobilidade, as quais são empregadas em um método de aprendizagem supervisionado através do algoritmo de árvore de decisão, com intuito de classificar rastros de mobilidade de usuários em modelos de mobilidade específicos. O modelo classificador apresentou uma acurácia de 99,5% e índice Kappa de 0,994, o que indica um elevado nível de concordância entre o modelo de classificação e a classificação verdadeira.
Download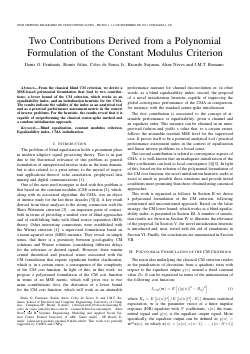 Two Contributions Derived from a Polynomial Formulation of the Constant Modulus Criterion
Denis G. Fantinato, Romis Attux, Celso de Sousa Jr., Ricardo Suyama, Aline Neves, J.M.T. Romano
Keywords:
Blind equalization
constant modulus criterion
Equalizability index
CMA initialization
Abstract
From the classical blind CM criterion, we derive a MSE-based polynomial formulation that lead to two contributions: a lower bound of the CM criterion, which works as an equalizability index, and an initialization heuristic for the CMA. The results indicate the validity of the index as an analytical tool and as a practical performance assessment metric in the context of inverse problems. For the heuristic, the results reveal that it is capable of outperforming the classical center-spike method and a random initialization approach.
Download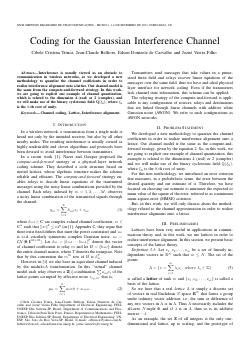 Coding for the Gaussian Interference Channel
Cibele Cristina Trinca, Jean-Claude Belfiore, Edson Donizete de Carvalho, Jozué Vieira Filho
Keywords:
Channel coding
Lattice
Interference alignment
Abstract
Interference is usually viewed as an obstacle to communication in wireless networks, so we developed a new methodology to quantize the channel coefficients in order to realize interference alignment onto a lattice. Our channel model is the same from the compute-and-forward strategy. In this work, we are going to explicit one example of channel quantization, which is related to the dimension 4 (real) or 2 (complex), and we will make use of the binary cyclotomic field Q(8), where 8 is the 8-th root of unity.
Download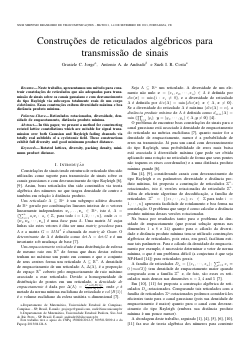 Construções de reticulados algébricos para transmissão de sinais
Grasiele C. Jorge, Antonio A. de Andrade, Sueli I. R. Costa
Keywords:
Reticulados rotacionados
diversidade
densidade de empacotamento
distância produto mínima
Abstract
Neste trabalho, apresentamos um método para construir constelações de reticulados que são adequadas para transmissão de sinais sobre os canais gaussiano e com desvanecimento do tipo Rayleigh via subcorpos totalmente reais de um corpo ciclotômico. Essas construções exibem diversidade máxima e boa distância produto mínima.
Download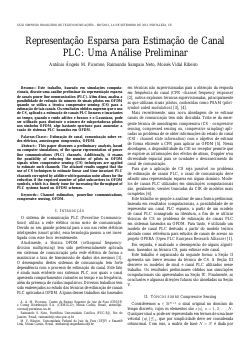 Representação Esparsa para Estimação de Canal PLC: Uma Análise Preliminar
Antônio Angelo M. Picorone, Raimundo Sampaio Neto, Moisés Vidal Ribeiro
Keywords:
Channel estimation
powerline communications
compressive sensing
OFDM.
Abstract
This paper discusses a preliminary analysis, based on computer simulations, of the sparse representation of power line communications (PLC) channels. Additionally, it exams the possibility of reducing the number of pilots in OFDM signals when compressive sensing (CS) techniques are applied to estimate such channels. The attained results suggest that the use of CS techniques to estimate linear and time invariant PLC channels corrupted by additive white gaussian noise allows for the reduction if the required number of pilot subcarriers in OFDM symbols, which is a timely issue for increasing the throughput of PLC systems based on OFDM schemes.
Download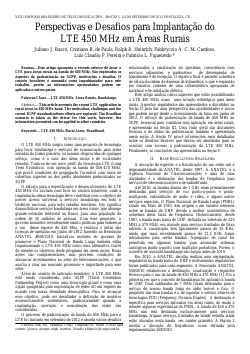 Perspectivas e Desafios para Implantação do LTE 450 MHz em Áreas Rurais
Juliano J. Bazzo, Cristiano B. de Paula, Ralph R. Heinrich, Fabbryccio A. C. M. Cardoso, Luís Claudio P. Pereira, Fabrício L. Figueiredo
Keywords:
LTE 450 MHz
Áreas Rurais
Bandalarga
Abstract
Este artigo apresenta o recente esforço de levar o LTE para áreas rurais na banda de 450 MHz. São explorados os aspectos da padronização no 3GPP, motivações e desafios. O cenário brasileiro é assumido como impulsionador para este trabalho, porém as informações apresentadas podem ser aplicadas a outros países.
Download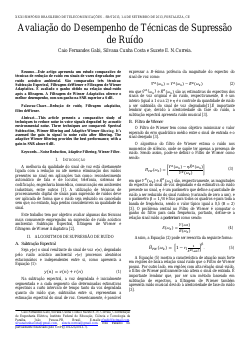 Avaliação do Desempenho de Técnicas de Supressão de Ruído
Caio Fernandes Gabi, Silvana Cunha Costa, Suzete E. N.Correia
Keywords:
Redução de ruído
Filtragem adaptativa
filtro deWiener
Abstract
Este artigo apresenta um estudo comparativo de técnicas de redução de ruído em sinais de vozes degradados por ruído acústico ambiental. São comparadas três técnicas: Subtração Espectral, Filtragem deWiener e Filtragem de Wiener Adaptativa. É avaliado o ganho obtido na relação sinal-ruído após a filtragem. A Filtragem de Wiener Adaptativa oferece o melhor desempenho, com um ganho na SNR superior a 6 dB.
Download